Cape Coral Florida Real Estate News
August 2022
Florida and National News:
Taxes, Financing, Insurance, Scams and more:
Cape Coral and Florida News:
Tips:
Things to do:
---
WONDERING HOW MUCH YOUR PROPERTY IS WORTH?

BE CAREFUL … SCAMMERS EVERYWHERE!!!!!
Don't fall for those Callers looking for properties way BELOW value.  Please protect yourself and find out the real value of your property before you sell to anyone.
Call Realtor Deb Cullen today…
(239) 233-2322
I'll be happy to help you find your value…
~ DON'T GET SCAMMED ~
---
~  August's FEATURED Property ~
4244 NW 25th St … only 42,900

Highly desirable SOUTHERN EXPOSURE!!!! Wonderful lot located across the street from waterfront homes. Sought after area west of Old Burnt Store Rd in Unit 83. This up and coming NW Cape Coral area is convenient to shopping, Gulf Access Boat Ramp, Restaurants and more… Located in the City of Cape Coral's New Vision planning area with lots of new construction nearby. Come take advantage of the deals while they are still available…. EVERYONE IS MOVING TO SUNNY SW FLORIDA!!! Imagine building your dream home in this waterfront homes neighborhood. Now that is living the Paradise dream…. Or keep as an INVESTMENT as we watch the City grow more!!! Saltwater Boating Access from several Community Boat Ramps located throughout the city gives access to the Gulf of Mexico, beaches, and surrounding islands such as Cayo Costa, Cabbage Key, Sanibel, Boca Grand… Not to mention…this area offers some of the best fishing to be found anywhere in the world. Plus, you'll love the fact that this lot is only about 30 miles from the Fort Myers Int'l Airport, 20 miles from the Punta Gorda Airport and 3 miles to Coral Oaks Golf Course. Come take advantage of the deals while they are still available….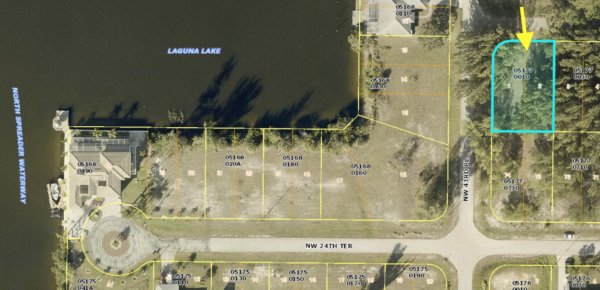 ---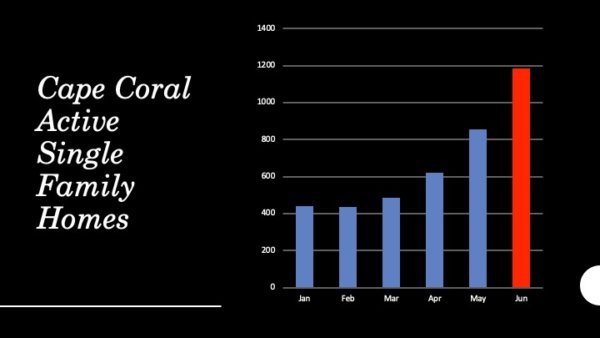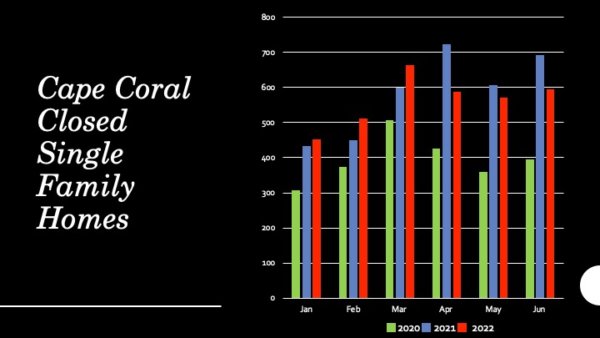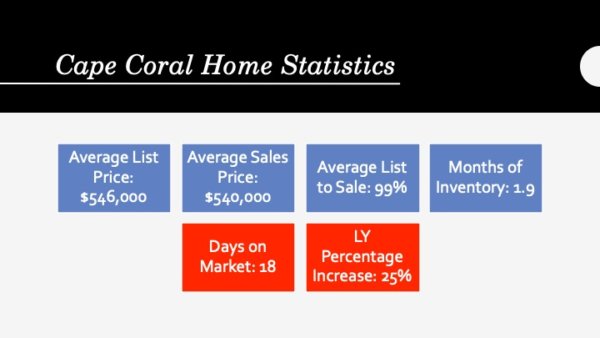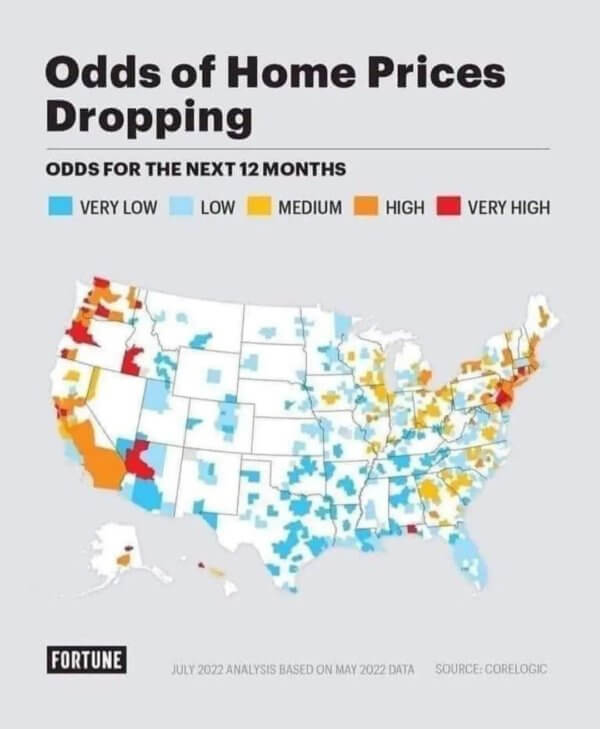 "Cape Coral"
 · Inventory appeared to taper off from its unprecedented increase the previous month, although higher than what we've seen, (levels reached over 1,300). Now, although more homes came on the market, the sheer numbers they are still way off from pre-pandemic quantities and still puts CC in a deficit when you compare 2018 and 2019. Activity rose by approximately 7 homes each day. Inventory levels reached to nearly 3 months, nearly a balanced market. The increase in inventory is expected to continue for the rest of the year. Absorption rates are more in line historically at 33%. The difference from last year to this year was a rise of 184%.
·      Demand and sales are headed back to pre-pandemic levels, which were some of the strongest in recent history. And although sales are less than they were from the previous two years, they remain sound further proof that the market is still very strong. Cape Coral total sales in July was 458 down by approximately 87 homes from last year and roughly 36 from 2019 at the current moment.
"Fort Myers News"
·    There's been more and more talk about the cooling off from the peak frenzy during the pandemic years but if you look at the numbers for the FM market you will see that it aligns and is fairing much better than past levels. Sales are up from last month and are only off by 31 homes from the previous year. Buyer demand is softening but due to higher mortgage rates, homes that are priced right are still selling fast.
·      The housing market is moving away from the frenzy of the past year and it's opening doors for more buyers, the intensity of bidding wars and above asking price offers have moderated some, however, the average list to sale ratio of 98% of asking price, still favors sellers.
"Industry News"
·   Mortgage applications continue to decline, however despite the recent rate increases, Generation Z-ers (Born 1997-2012), are emerging more as loan applicants.
---
For more… click here for Cape Deb's Blog…..
Cape Coral Weekly Market Watch
Have questions?  Need Cape Coral Real Estate assistance?  Call Deb Cullen at (239) 233-2322 or click here…..