Cape Coral Florida Real Estate News
May 2022
Florida and National News:
Taxes, Financing, Insurance, Scams and more:
Cape Coral and Florida News:
Tips:
Things to do:
Cape Coral Downtown Farmers' Market – Open Saturdays from 8 AM – 1 PM in Club Square. One of the largest markets in Southwest Florida!
Mid – Cape Farmers' Market – Open Sundays from 10 AM – 2 PM at Mercola Market & Café.
Surfside Sunshine Farmers' Market – Open Tuesdays from 1 PM – 6 PM. Located in the Shops at Surfside, NW corner of Veterans Parkway & Surfside Boulevard.
———————————————————-
DON'T SELL YOUR LOT!!!  
SCAMMERS – SCAMMERS – SCAMMERS EVERYWHERE!!!!!
They are calling owners and buying lots for way BELOW value.  Please protect yourself and find out the real value of your land before you sell to anyone.  Call Realtor Deb Cullen today…
(239) 233-2322
I'll be happy to help you find your value…
~ DON'T GET SCAMMED ~
———————————————————-
~  May's FEATURED Property ~
4516 NW 34th Ter … only $77,500

Desirable SOUTHERN EXPOSURE!!! Vacant Lot located west of Old Burnt Store Road in unit 90. Short drive to shopping, Gulf Access Boat Ramp, Restaurants and more… Located in the City of Cape Coral's New Vision planning area with lots of new construction homes nearby. Imagine building your dream home in this up and coming neighborhood with beautiful gulf access waterfront homes nearby. Now that is living the Paradise dream…. Or keep as an INVESTMENT as we watch the City continue to grow!!! Saltwater Boating Access from several Community Boat Ramps located throughout the city will give you access to the Gulf of Mexico, beaches, and surrounding islands such as Cayo Costa, Cabbage Key, Sanibel, Boca Grand… Not to mention…this area offers some of the best fishing to be found anywhere in the world. Plus, you'll love that this lot is only about 32 miles to the Fort Myers Int'l Airport, 17 miles to the Punta Gorda Airport, 5 miles to Coral Oaks Golf Course, and 6 miles to the Burnt Store BOAT RAMP! Call today!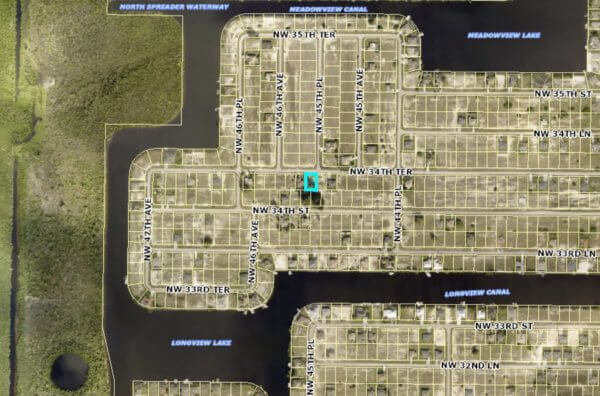 ———————————————————-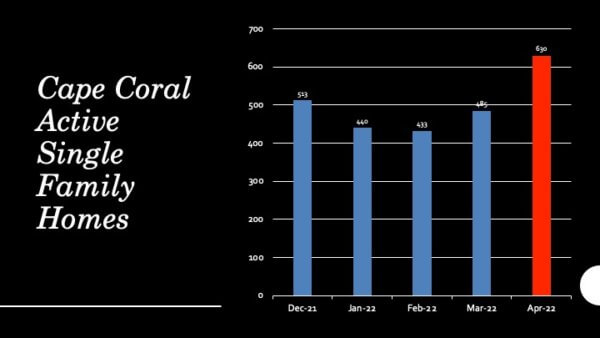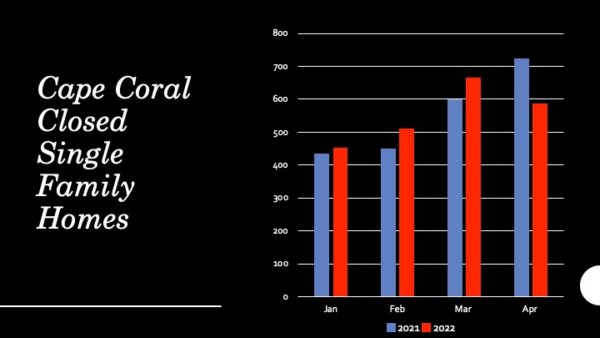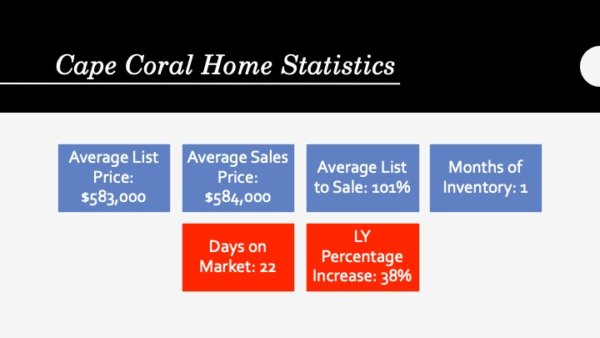 ———————————————————-
"Cape Coral"
 ·    Not surprised to report that inventory levels have taken a sharp turn, levels rose in April to 630 active single family homes, the highest since October 2020. The rise of nearly 30% month over month has me wondering if the "selling" peak that we normally see in May came earlier this year in March. Distressed sales rose to 1% in April, which remain below normal levels.
·      As I predicted, the Cape Coral market is showing signs of stabilizing a 93% absorption rate last month is the lowest we've seen since last year and a drop in sales of nearly 19% at this time of year is highly uncommon. Traditionally, April sales are the highest reported all year, this year however, sales fell month over month and as the summer months quickly approach, we can expect a summer slowdown to begin earlier this year.
"Fort Myers News"
·     23% increase in active inventory for Fort Myers spurred a month over month increase in sales but a drop year over year of 9%. Making it the 3rd year over year drop, couple that with a rise in interest rates and the increase in inventory it has the making for a sure shift.
·      Another month of 100% list to sale ratios for Fort Myers, although the percentage increase year over year was in the double digits, month over month price increases were those of 5%. DOM and months of inventory both up from a year ago.
"Industry News"
·   Starting on July 1, 2022 there are some big changes coming to the credit reporting for consumers. This is great news for consumers!
   o  Three things are changing.
   o  Medical collections will not be able to report to the consumer credits report for 365 days. This will give the consumer more     time to work with their insurance company or to pay the bill outright before it hits your credit report.
   o  Paid medical collections will be removed from your credit report. In the past, a paid medical collection would stay on your credit report and it could have negatively affected your credit score.
   o  Starting in March 2023 any medical collection under $500 will not be reported to the credit bureaus
———————————————————-
For more… click here for Cape Deb's Blog…..
Cape Coral Weekly Market Watch
Have questions?  Need Cape Coral Real Estate assistance?  Call Deb Cullen at (239) 233-2322 or click here…..