Cape Coral Florida Real Estate News
April 2022
Florida and National News:
Taxes, Financing, Insurance, Scams and more:
Cape Coral and Florida News:
Tips:
Things to do:
———————————————————-
DO NOT SELL YOUR LOT!!!  
SCAMMERS – SCAMMERS – SCAMMERS EVERYWHERE!!!!!
They are calling owners and buying lots for way BELOW value.  Please protect yourself and find out the real value of your land before you sell to anyone.  Call me today…
239-233-2322….
I'll be happy to help you find your value…
~ DON'T GET SCAMMED ~
———————————————————-
Low inventory!
Ready to sell?  I SOLD these and I can help you too~
Call or email Deb today (239) 233-2322  – [email protected]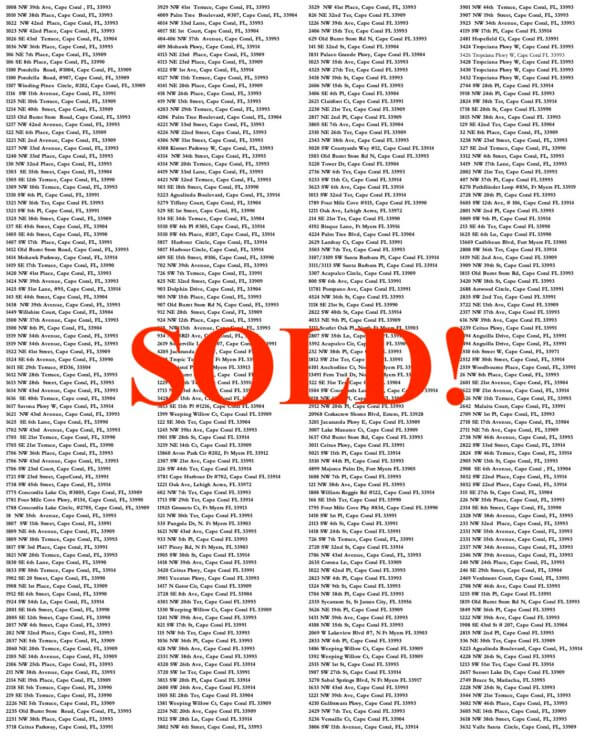 ———————————————————-
~  April's FEATURED Property ~
3501,3503,3505 NW 15TH LN … only $84,900

RARE…3 Lots Sold Together make a TRIPLE LOT !!! GREAT location WEST of Burnt Store Rd. Approx. 120' x 125' together. Sought after area in unit 60…This lot is located in a neighborhood of stunning Waterfront Homes and is located just south of Gulfstream Parkway. Great NORTHERN EXPOSURE. NW Cape Coral is convenient to shopping, Gulf Access Boat Ramp, Pine Island, Restaurants and more… Located in the City of Cape Coral's New Vision planning area with lots of new construction nearby. Come live the Florida lifestyle…. Saltwater Boating Access from several Community Boat Ramps located throughout the city gives access to the Gulf of Mexico, beaches, and surrounding islands such as Cayo Costa, Cabbage Key, Sanibel, Boca Grand… Not to mention…this area offers some of the best fishing to be found anywhere in the world. Plus, you'll love that this lot is only about 33 miles to the Fort Myers International Airport, 27 miles to the Punta Gorda Airport, 2 miles to the Coral Oaks Golf Course, and 3 miles to Burnt Store boat ramp. PRICES ARE ON THE RISE! Call today!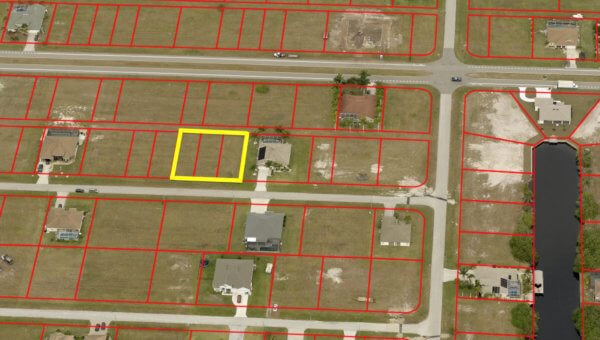 ———————————————————-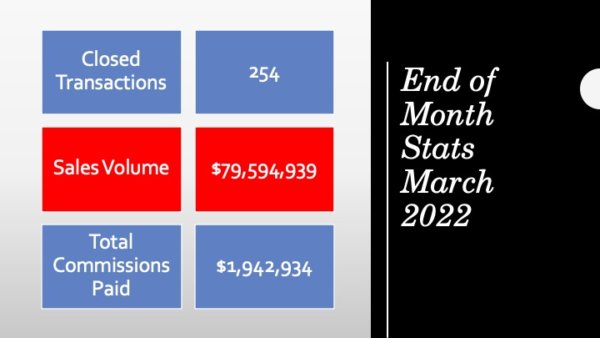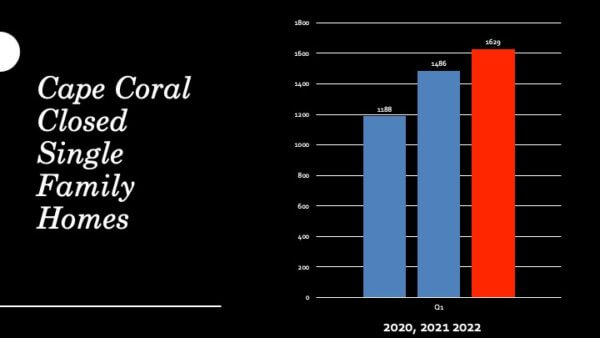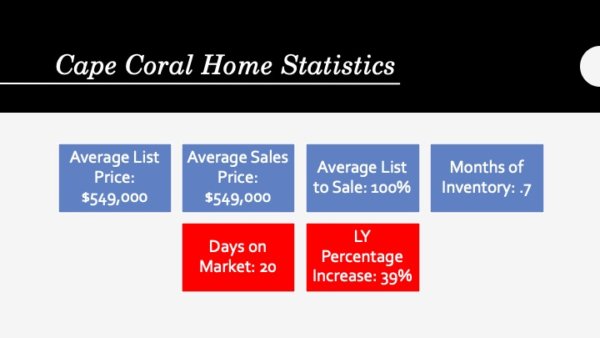 ———————————————————-
"Cape Coral"
 ·  Inventory levels continue to be a challenge with just over 485 single family homes on the market for Cape Coral, although inventory increased last month it remains well below demand level. Home sale activity jumped nearly 11% in one month and 9% from last year. Absorption rates continue to reach unprecedented levels of 137%
·      Prices continue to rise with the shortage of inventory. Prices rose 4% in one month and with no relief of new inventory coming onto the market, prices have reached yet another high in Cape Coral. The average single family home rose 39% or by $154k in just one year. In retrospect the gain in price was the equivalent of the average single family home price back in July of 2011. The average list to sale ratio remains at 100%.
"Fort Myers News"
·     After two consecutive months of a drop in closings, FM bounced back (34% in March the total sales in March were 410. Now, although higher than Q1 2020, 2022 is considerably lower than last year by 177 or 15%, the projection is that FM has begun to stabilize and numbers should be those of pre-pandemic levels. Inventory levels dropped last month unlike those in Cape Coral.
·      The rise in prices in the Cape Coral market has the Fort Myers market with a minimal gain running parallel to those of Cape Coral with the only notable difference being in the year over year increase of 24%. Month over month difference is prices were nominal, prices have increased approximately 5% month over month. The cost of waiting for consumers is equivalent to $100k
"Industry News"
· FEMA is changing the way it views flood risk and prices flood insurance, making it easier for you. The new pricing (Risk Rating 2.0) is a new pricing methodology from FEMA for flood risk that became effective April 1st and that will affect your flood insurance premiums. The National Flood Insurance Program's new rating will deliver rates that are easier to understand and better reflect a property's unique flood risk. Rates are now developed on a structure-by-structure basis, offering your clients a more individualized picture of their risk (CLICK HERE for fact sheet)
———————————————————-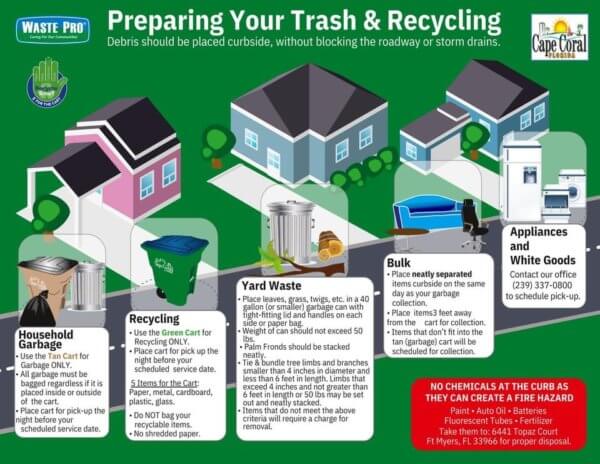 For more… click here for Cape Deb's Blog…..
Cape Coral Weekly Market Watch
Have questions?  Need Cape Coral Real Estate assistance?  Call Deb Cullen at (239) 233-2322 or click here…..