Cape Coral Florida Real Estate News
October 2021
Florida and National News:
September new home sales jump 14%   Read more…
74% of Seniors say best financial decision was buying a home   Read more…
Canadians can travel on Nov 8   Read more…
With foreclosures up, are we facing another housing crisis?   Read more…
Lumber prices dropped 65%–but don't expect cheaper homes   Read more…
Another reason to move to Fla.? Home heating prices   Read more…
How many offers did the typical 2021 Buyer make?   Read more…
Taxes, Financing, Insurance, and more:
Vacation-Owners: The IRS needs to know where you live   Read more...
FEMA Map: Flood Insurance Premium changes   Read more…
Flood Insurance Changes — FEMA Risk Rating 2.0   Read more…
Cape Coral and Florida News:
A boat dock could be coming to Founder's Park in Cape Coral   Read more…
Cape Coral Park dedicated to late Mayor Joe Coviello breaks ground Tuesday   Read more…
City of Cape Coral working to improve broadband infrastructure   Read more…
Healthcare development boom to improve accessibility for Cape Coral   Read more…
Farmer Joe's Fresh Market looking to hire hundreds   Read more…
Zoom Town: Cape Coral seeing an increase in work from home residents   Read more…
Rise in rent and lease renewals as more people move to Southwest Florida   Read more…
SWFL City makes list of most moved to in the US   Read more…
Fla. Builders investing heavily in new single-family construction   Read more…
US News & World Report: Fla. has 8 of the Top 10 'Best Retirement Metros'   Read more…
Cape Coral receives $1 million in funding for Caloosahatchee Connect Pipeline project   Read more…
NWNA: Here we grow again   Read more…
Lee Health announces substantial expansion plans in Cape Coral   Read more…
New budget creates 15 more Cape Coral Police Officer positions   Read more…
Tips:
8 hottest design trends for Fall 2021   Read more…
Take Steps to maximize insurance benefits after a storm   Read more…
6 Things that people says about buying a home today that actually aren't true   Read more…
———————————————————-
DO NOT SELL YOUR LOT!!!  
SCAMMERS – SCAMMERS – SCAMMERS EVERYWHERE!!!!!
They are calling owners and buying lots for way BELOW value.  Please protect yourself and find out the real value of your land before you sell to anyone.  Call me today…239-233-2322…. I'll be happy to help you find your value… No obligation.
~ DON'T GET SCAMMED ~
———————————————————-
Low inventory!
Ready to sell?  I SOLD these and I can help you too~
Call or email Deb today (239) 233-2322  – [email protected]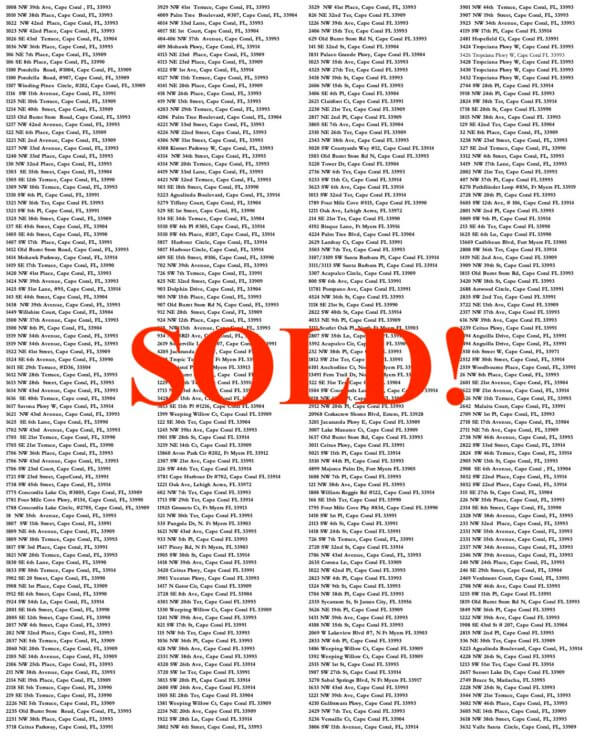 ———————————————————-
~  October's FEATURED Property ~
4524 NW 36TH ST, Cape Coral, FL …

*** NEW SEAWALL *** No need to wait for months or years …. This GULF ACCESS lot has a NEW SEAWALL already!!! Amazing location right across from CRYSTAL LAKE and all the benefits that the upcoming CRYSTAL LAKE PARK PROJECT plan could offer. BOATING ACCESS TO THE GULF OF MEXICO and beyond. DIRECT SAILBOAT ACCESS with no bridge to go under. This 80 x 125 Lot is located on the approx 120' wide Meadowview Canal in unit 90. Desirable SOUTHERN EXPOSURE! Quick access to the North Spreader! Located west of Old Burnt Store Rd. This area is part of the City of Cape Coral's New Vision planning area with lots of new construction nearby. Imagine building your dream home…walking out your back door…getting in your boat and heading out to anywhere in the world….now that is ACCESS!!! Boating access to the Gulf of Mexico, beaches, and surrounding islands such as Cayo Costa, Cabbage Key, Sanibel, Boca Grand, etc. This area offers some of the best fishing to be found anywhere in the world. You'll also love that this lot is approx 5 miles from an 18-hole Championship Golf Course. Easy access to the Ft Myers International airport only about 35 miles away & Punta Gorda airport about 17 miles.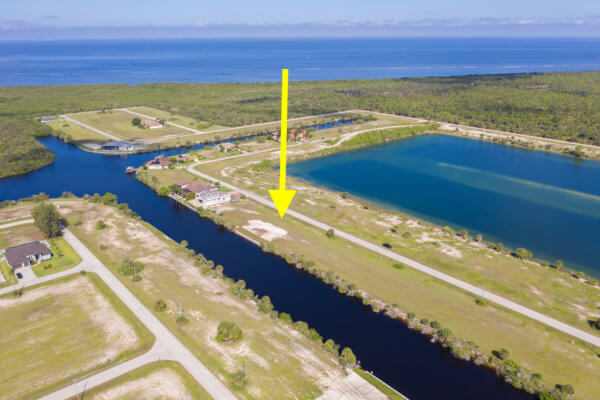 ———————————————————-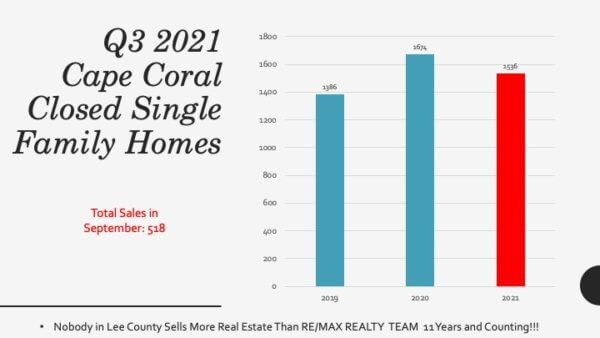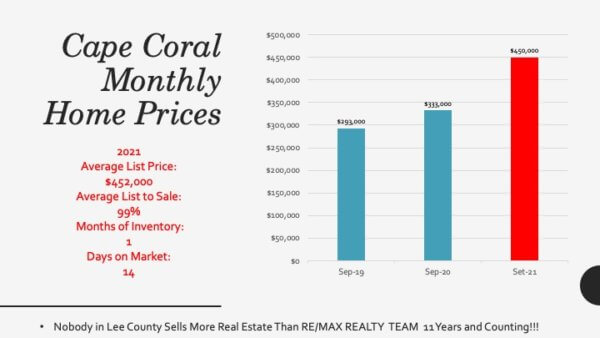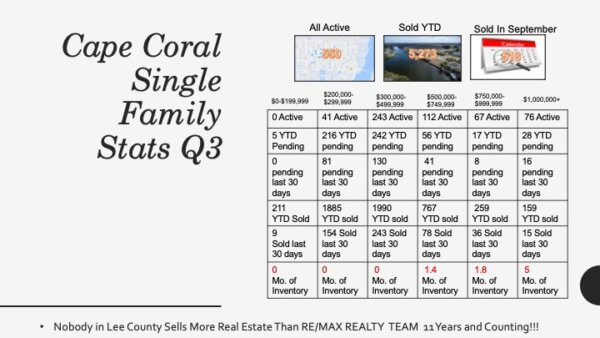 ———————————————————-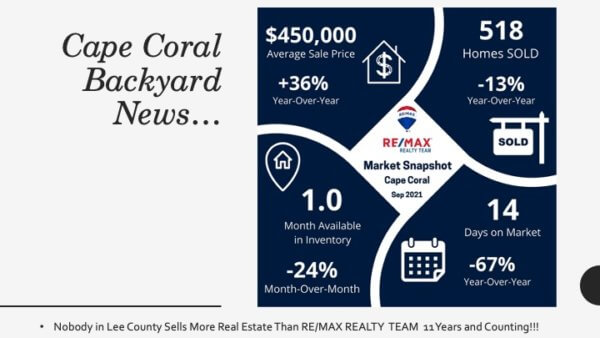 Backyard News:
"Cape Coral"
Normal market patterns have been disrupted throughout 2021, it's common for listings to gradually be on the decline month over month, however the opposite has been happening. Inventory levels rose for the seventh consecutive month in September to 550. Although up, levels remain roughly 24% from last year.
Sales rose month over month last month to 518 and absorption rates continue at historic highs. An expected rise in Q3 sales from 2019. While sellers remain in the driver's seat, inventory is rising and DOM have creeped up along with a drop of list to sale ratios. Is this the beginning of the shift?
Single family home prices reached the $450,000 mark and are up 36% over last year, while inventory levels play a major role in prices, sellers (last month) gave way to a 1% reduction in list to sale which equalled $40k. Sellers need to be cautious and price to the market they are headed to.
"Fort Myers News"
Perhaps an odd month, September active single family homes fell last month by 10% and was one of the only two areas in the county where this happened. Levels are still well below normal (54% year over year) October should bounce back to more predictable patterns.
In any market we typically see a "tale of two markets" one where homes are listed to sit or sell, in Fort Myers, the latter is the case with an absorption rate of 107% last month.
Home prices rose to $481k a gain of 19% year over year. Even though listings fell last month the effect of the drop won't be felt for a month or so and we should see another double digit gain in prices next month.
———————————————————-
For more… click here for Cape Deb's Blog…..
Cape Coral Weekly Market Watch
Have questions?  Need Cape Coral Real Estate assistance?  Call Deb Cullen at (239) 233-2322 or click here…..