Cape Coral Florida Real Estate News
September 2021
Florida and National News:
Renters uncertain about their future   Read more…
Vacation Homes will defy any market slowdown   Read more…
Many overly-confident Sellers price their home too high   Read more…
8 Experts: Sky-high housing prices won't fall   Read more…
Homebuyer fatigue hits the housing market as prices continue soaring   Read more…
More Canadian Snowbirds plan their Florida return   Read more…
America is short 5.24M homes   Read more…
Population rise prompts housing shortage, delays in construction   Read more…
Taxes, Financing, Insurance, and more:
Lee County Tax Exemption Information   Read more...
New flood rates debut Oct. 1 unless Congress acts   Read more…
Cape Coral Police warn of scam targeting owners of vacant lots   Read more…
Cape Coral and Florida News:
Cape Coral moves forward with property tax decrease, final budget meeting added   Read more…
Cape Coral Arts and Music Festival returns to SW Florida   Read more…
New Lee Health medical facility could be coming to Cape Coral   Read more…
Cape Coral conducts test with bubble curtain on Mandolin Canal   Read more…
Florida could face styrofoam ban as early as 2022   Read more…
Lee County officials working to reduce plants clogging Cape Coral canals   Read more…
Demand for storage units grow as more people move to Cape Coral   Read more…
5 Fla. Metros 'Top 10 Busiest' for Commercial Real Estate   Read more…
These 20 cities are remote work hotspots   Read more…
Cape Coral sees high demand for apartments, rise in development   Read more…
Burnt Store Road Construction progress   Read more…
Lee County buys Cape Coral land in latest Conservation 20/20 purchase   Read more…
City of Cape Coral discussing new park projects   Read more…
Crystal Lake Boardwalk – Future 'Trading House Trail'  Read more…
Tips:
The next generation of home automation   Read more…
Kitchen cabinets need a new look?   Read more…
When it's time to replace things on the outside of the house   Read more…
———————————————————-
Thank you to all my wonderful customers who helped me make the
Top Realtors in Florida

list:
———————————————————-
Record low inventory!
Ready to sell?
I SOLD these and I can help you too~
Call or email Deb today (239) 233-2322  – [email protected]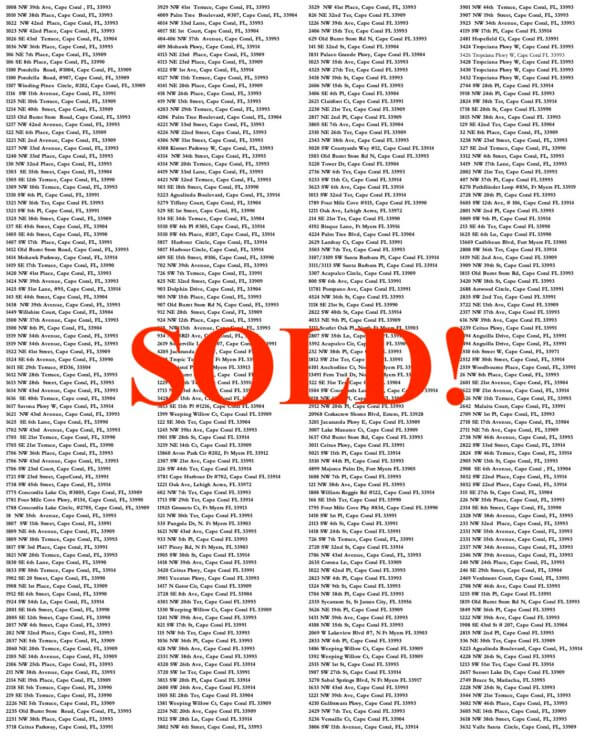 ———————————————————-
~  September's FEATURED Property ~
716 NW 37TH AVE, Cape Coral, FL …$54,900 

(PRICE REDUCED)



WESTERN EXPOSURE Lot located in neighborhood of Waterfront homes. Sought after area west of Burnt Store Rd in unit 59. Short drive to shopping, Gulf Access Boat Ramp, Restaurants and more… Located in the City of Cape Coral's New Vision planning area with lots of new construction nearby. Come take advantage of the deals while they are still available…. Imagine building your dream home in this beautiful waterfront neighborhood. Now that is living the Paradise dream…. Or keep as an INVESTMENT as we watch the City continue to grow!!! Saltwater Boating Access from several Community Boat Ramps located throughout the city will give you access to the Gulf of Mexico, beaches, and surrounding islands such as Cayo Costa, Cabbage Key, Sanibel, Boca Grand… Not to mention…this area offers some of the best fishing to be found anywhere in the world. Plus, you'll love the fact that this lot is only about 30 miles to the Fort Myers Int'l Airport, 19 miles to the Punta Gorda Airport, 3 miles to Coral Oaks Golf Course, 4 miles to Cape Royal Golf Course, and ONLY 2 miles to the Burnt Store BOAT RAMP! Come take advantage of the deals while they are still available…. CALL TODAY!
———————————————————-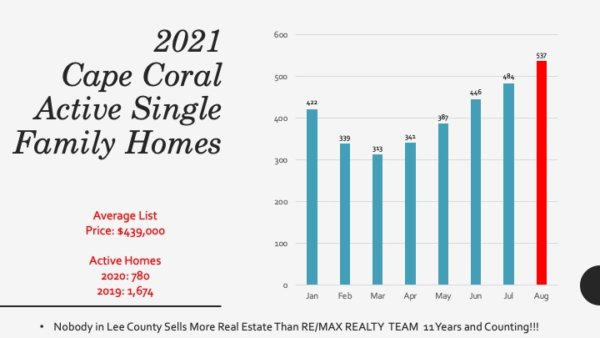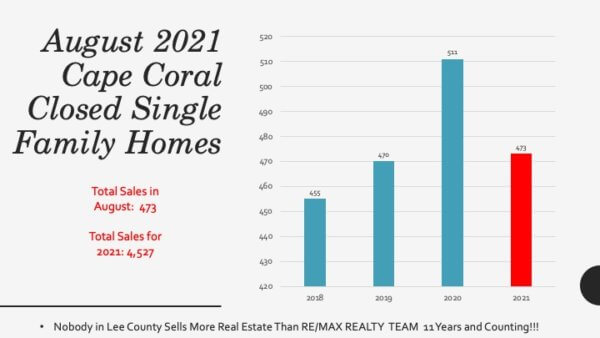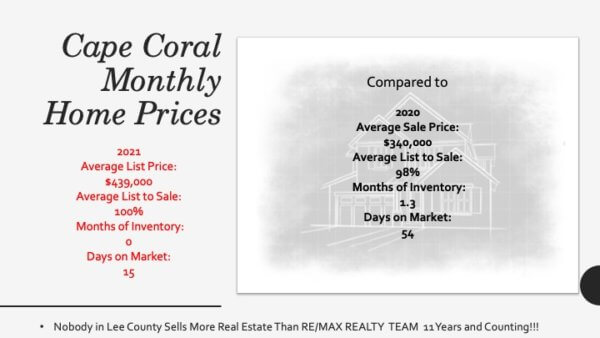 ———————————————————-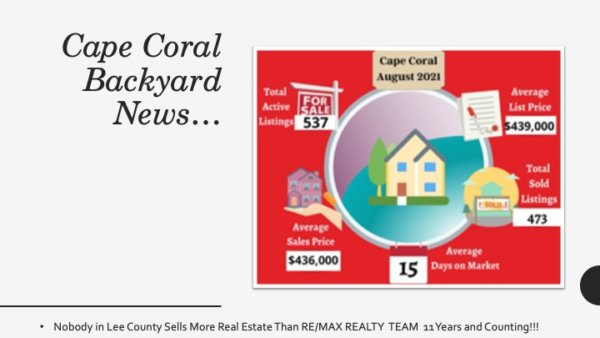 Backyard News:
"Cape Coral"
Housing demand continues to outpace the supply but the steady increase (11% from a month ago) will lessen the burden felt by many buyers. While inventory remains low, new listing inventory is gradually rising and is almost at 1 month.
Absorption rates in Cape Coral last month were one of the lowest reported across our markets, however they are within normal parameters excluding 2020. 473 total closings were reported in August.
Home prices on average (nationally) tend to rise between 3-5%, over the last several years, Cape Coral prices have risen 5.75%. The current rate is more than 2 ½ times that, bringing the average sales price to $439k and a difference of nearly $100k from just a year ago.
"Fort Myers News"
For the last five months, inventory has crept up slightly, although not as high as in Cape Coral. The housing market resembles (inventory, sales, prices) the market pre-bubble.
Sales are up year over year, unlike the Cape and Bonita Estero and when you exclude last year's pandemic aftermath, the growth is up 8% and absorption rates continue in the triple digits.
The average home buyer will pay $100k more this year than last. Prices have soared beyond peak prices and are currently at $478k.
———————————————————-
News from the
NORTHWEST NEIGHBORHOOD ASSOCIATION….
for more info on membership click here…
More to Grow
Two weeks ago we told you that 571 apartments, in three separate developments, would come online between Nicholas Parkway and Sam's Club on Pine Island Rd. in the next couple of years, if current development plans are followed through on.
Now, there's more coming to our area. There's a plan, In the preliminary stages, for a 444-unit apartment complex a block east of Chiquita about halfway between Pine Island Rd. and Embers Parkway.
The name of the development is Noble Vines of Cape Coral. One of the companies involved is Claret Communities, who developed Noble Vines complexes in Georgia over the last several years.
Location of Noble Vines of Cape Coral, just east of Chiquita.
A picture of the Noble Vines in Braselton, GA which some of the Cape Coral building elevations are based on in the preliminary plans submitted.
Noble Vines Cape Coral may have a similar look.
In addition to the apartment complex, there is a preliminary plan for a single-family housing development called Escondido Estates which will be located on a vacant lot on the north side of Embers, just east of the Embers and Chiquita intersection. That development will consist of 18 single family homes.
Location of Escondido Estates
We also told you about the Tire Kingdom coming to Skyline next to Dairy Queen and across the street from Home Depot and the Culvers that's in the middle of construction. There is now a new plan moving forward for a Wendy's restaurant to go just north of the Tire Store.
A Wendy's in that area has been in and out of the planning process for the last few years. With things picking up in that area, this time may be the charm.
Back to Pine Island Rd., there is a concept plan, in the very early discussion phase, for multi-family development in the area a block south of Pine Island Rd. between City Palms Nursery and the strip mall just to the west.
Called, for now, Cape Coral Apartments, it would consist of 2 four-story buildings with 100 apartments and studios.
Cape Coral Apartments concept
A developer is in the pre-application process, working with the city over the concept plan of an adult living facility in the same area. AMY Adult Living Facility would also be located in the area south of Pine Island Rd., between Palm City Nursery and the strip mall to the west. The facility would accommodate between 58 and 62 residents.
Map showing one of several lots on 7th Ct. (left photo) for AMY ALF and one of several lots on SW 3rd St. (right) for Cape Coral Apartments in the photo on the right.
For more… click here for Cape Deb's Blog…..
Cape Coral Weekly Market Watch
Have questions?  Need Cape Coral Real Estate assistance?  Call Deb Cullen at (239) 233-2322 or click here…..