Cape Coral Florida Real Estate News
June 2021
Florida and National News:
Best Realtors in America & Florida  

Read more…

Inflation ahead? Top Economist says it's complicated  

Read more…

Hydrologist: The 100-year flood isn't what you think   Read more…
Housing Crisis requires a once-in-a-generation response   Read more…
Bidding Wars: More likely than not in all but one Fla. metro   Read more…
Single-family rents see largest yearly increase in 15 years   Read more…
Real Estate Economy: It's not a bubble unless it pops  Read more…
Proposed Amendment would protect affordable housing in Fla   Read more…
One cause of rising S. Fla. rents? Lots of unsuccessful buyers   Read more…
8 out of 10 homes sold at or above list price   Read more…
These are the States seeing the most people moving out   Read more…
Taxes, Financing, Insurance, and more:
Elderly scams are up – including property fraud   Read more...
Rules for Student Buyers with student loan debt   Read more…
So what is Title Insurance?   Read more…
Cape Coral and Florida News:
Tips:
5 Real Estate podcasts that'll teach you the ins and outs of buying a house   Read more…
5 of the most searched Outdoor decor trends of summer 2021  

Read more…

6 Summer Maintenance Tasks that could save you cash   Read more…
14 products made for an outdoor summer soiree  

Read more…

10 ways to protect your home while on vacation   Read more…
How to remove dog smells from your home   Read more…
Nature and Parks:
SWFL Congressman pushes for manatees to be back on the endangered species list   Read more…
———————————————————-
Record low inventory!
Ready to sell?

I SOLD these and I can help you too~
Call or email Deb today (239) 233-2322  – [email protected]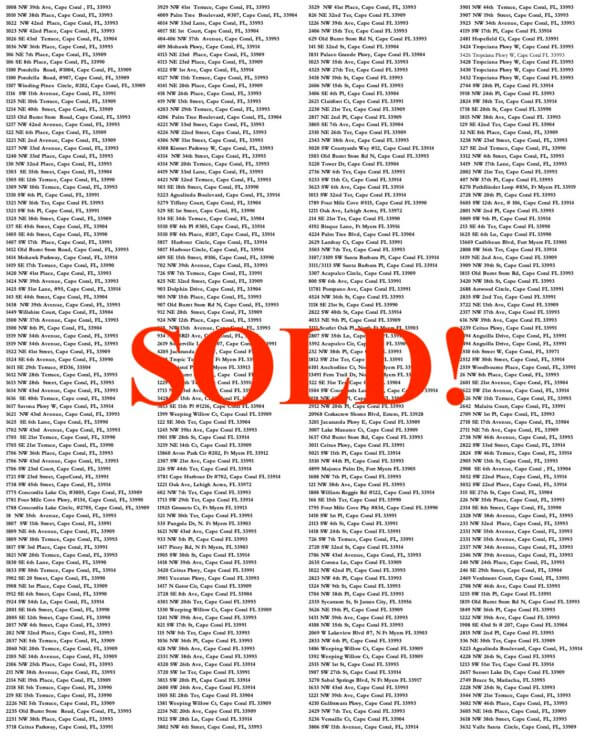 ———————————————————-
~  June's FEATURED Properties ~
716 NW 37TH AVE, Cape Coral  FL …Only $59,900

WESTERN EXPOSURE Lot located in neighborhood of Waterfront homes. Sought after area west of Burnt Store Rd in unit 59. Short drive to shopping, Gulf Access Boat Ramp, Restaurants and more… Located in the City of Cape Coral's New Vision planning area with lots of new construction nearby. Come take advantage of the deals while they are still available…. Imagine building your dream home in this beautiful waterfront neighborhood. Now that is living the Paradise dream…. Or keep as an INVESTMENT as we watch the City continue to grow!!! Saltwater Boating Access from several Community Boat Ramps located throughout the city will give you access to the Gulf of Mexico, beaches, and surrounding islands such as Cayo Costa, Cabbage Key, Sanibel, Boca Grand… Not to mention…this area offers some of the best fishing to be found anywhere in the world. Plus, you'll love the fact that this lot is only about 30 miles to the Fort Myers Int'l Airport, 19 miles to the Punta Gorda Airport, 3 miles to Coral Oaks Golf Course, 4 miles to Cape Royal Golf Course, and ONLY 2 miles to the Burnt Store BOAT RAMP! Come take advantage of the deals while they are still available…. CALL TODAY!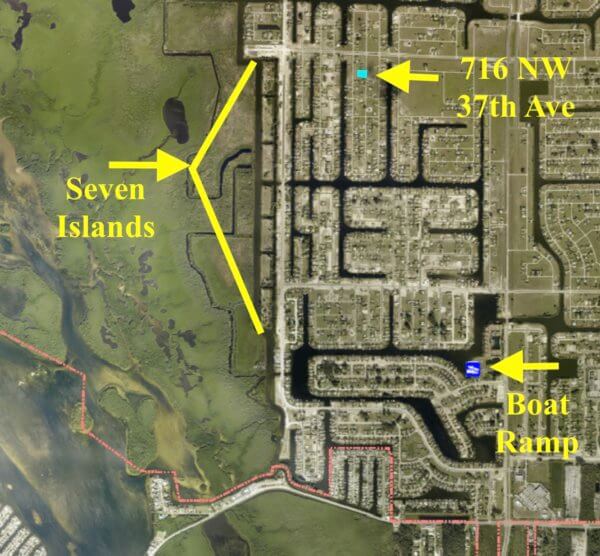 ———————————————————-
INVENTORY IS LOW…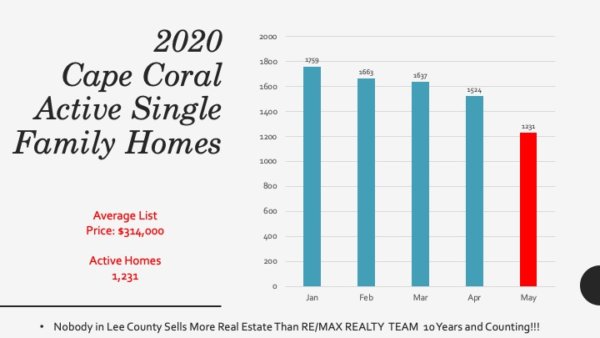 PRICES OVER LAST YEAR…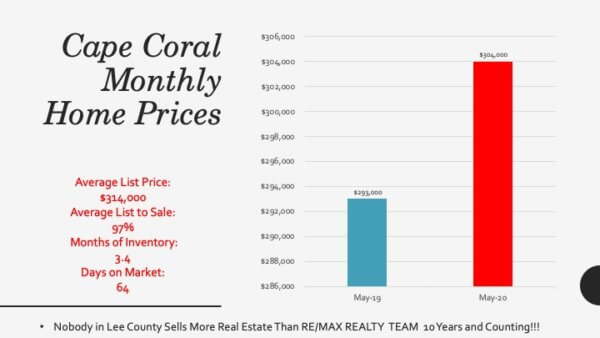 ———————————————————-
Backyard News:
"Cape Coral"
Single family home inventory increased slightly last month (13%) respectively, although they are still at record low levels, pending activity and absorption rates fell last month which is contrary to recent years' activity.
The number of active homes and pending activity tie in directly with future sales and rising prices, the average single family home sold for 42% than last year.
Prices continue to escalate; the highest so far in 2021, with an average home in the market selling for above list price (101%) and an average day on the market of 19 days.
"Fort Myers News"
A drop of 17% in sales for May, absorption equaled 88%, although some may be alarmed due to the drop, this is in line with previous years including the pandemic effects of last year.
Fort Myers prices are inching up to the 100% list to sale ratio. With the increase in appreciation totaling over 20% and absorption levels over 88%, buyers need to consider the high demand and low levels when making offers.
Home levels are down 74% from a year ago and the months of inventory are non-existing with a single family home average DOM at 30 down from 67 in 2020.
"Industry News"
Rental Assistance Program – The Florida Department of Children and Families has launched the OUR Florida program, which was created to administer the federally-funded emergency rental relief program that was part of the American Rescue Plan Act of 2021.
The OUR Florida program provides renters who qualify with relief on unpaid rent and utility bills, and supports landlords and utilities with relief on lost revenue to support their continued recovery. The website is currently accepting applications and began processing them in the order in which they were received on Monday, May 17, 2021.
Fair Housing Act Standards to the use of criminal records screening in housing‐related transactions. (See Attached). This guidance prohibits landlords from:
–   Denying housing based on arrest records.
–   Blanket bans on anyone with a criminal history.
–   Conducting background checks inconsistently, performing them on some and not others based on stereotypes or fear.
———————————————————-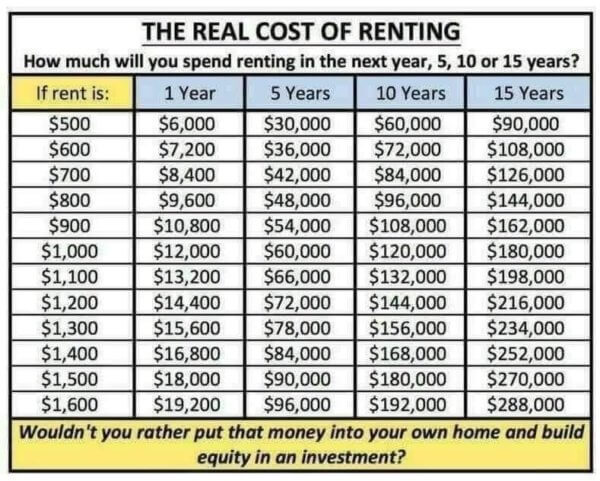 For more… click here for Cape Deb's Blog…..
Cape Coral Weekly Market Watch
Have questions?  Need Cape Coral Real Estate assistance?  Call Deb Cullen at (239) 233-2322 or click here…..