Cape Coral Florida Real Estate News
April 2021
Florida and National News:
Moving Trends called 'The Great re-Shuffling'    Read more…
How many homes does the U.S. need to catch up? Almost 4M   Read more…
Housing demand likely to stay high for years to come   Read more…
JP Morgan CEO foresees Post-Pandemic Boom   Read more…
NAR: Florida Realtors passes Calif. as largest State Association   Read more…
Relocations from San Francisco to Fla. up 46% in 2020   Read more…
Fla. releases $150M for 20 Infrastructure Projects in 15 Counties   Read more…
NAR Report: Marijuana and Real Estate: A budding issue   Read more…
Lawmakers bend a little on Housing Trust Fund issues   Read more…
Some return-to-work policies 'going to the dogs'   Read more…
Some Builders says lumber costs put their businesses at risk   Read more…
New Federal Boating Law Details   Read more…
Florida Realtors releases latest Fla. Buyers & Sellers report   Read more…
New-Home slowdown isn't Buyers, it's Builders   Read more…
Taxes, Financing, Insurance, and more:
Frontline workers can buy homes at deep discount   Read more...
Lenders are tightening up on mortgage loans   Read more…
Buying Homeowners Insurance? Ask 4 questions first   Read more…
Changes to National Flood Insurance Program could mean rate hikes for some   Read more…
City officials warn of water analysis scam in Cape Coral   Read more…
Cape Coral and Florida News:
New development will bring millions of dollars to South Cape Coral   Read more…
Youth Council Boardwalk approval   Read more…
Community Redevelopment Agency passes resolutions for projects in South Cape Coral   Read more…
New irrigation design standards proposed in Cape Coral   Read more…
Cape Coral pushes forward with two major projects   Read more…
Cape Coral Rental properties must be registered   Read more…
Labor of love behind Southwest Florida Vietnam Veterans Memorial   Read more…
Burnt Store Road widening project in final phase   Read more…
Cape Coral, Fort Myers among top ten places most go to retire   Read more…
Tips:
Nature and Parks:
———————————————————-
NOW IS THE TIME TO SELL !!!
***   RECORD LOW INVENTORY   *** 
***   It's a Sellers Market ! ***
HOMES AND LAND are selling quick!!!
I SOLD these and I can help you too! 
Call or email Deb today (239) 233-2322  – [email protected]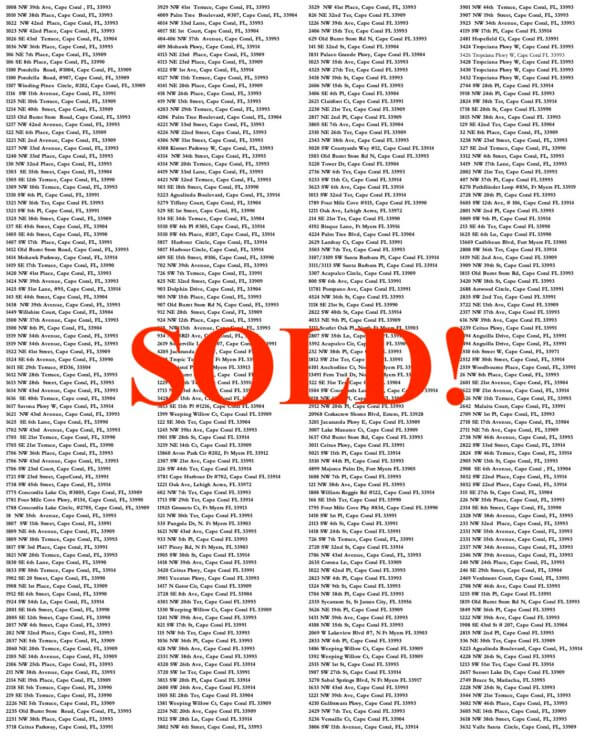 ———————————————————-
~  April's FEATURED Property ~
WATERFRONT – DIRECT Gulf ACCESS!
4111 Gulfstream Pkwy, Cape Coral  FL …

*** SEAWALL *** SEAWALL *** SEAWALL *** GULF ACCESS lot with SEAWALL already in!!! BOATING ACCESS TO THE GULF OF MEXICO and beyond. DIRECT ACCESS with no bridge to go under. RARE FIND! Sought after Gulfstream Pkwy neighborhood with gorgeous new construction everywhere you look. WIDE CANAL!!! This Vacant Lot is located on the almost 200' wide Cleome Canal in unit 82. Quick access to the North Spreader! Located west of Old Burnt Store Rd in a dead-end peninsula neighborhood with custom homes. One way in, one way out. This area is part of the City of Cape Coral's New Vision planning area with lots of new construction nearby. Imagine building your dream home…walking out your back door…getting in your boat and heading out to anywhere in the world….now that is ACCESS!!! Boating access to the Gulf of Mexico, beaches, and surrounding islands such as Cayo Costa, Cabbage Key, Sanibel, Boca Grand, etc. This area offers some of the best fishing to be found anywhere in the world. You'll also love that this lot is approx 3 miles from an 18-hole Championship Golf Course. Easy access to the Ft Myers International airport only about 35 miles away & Punta Gorda airport about 20 miles.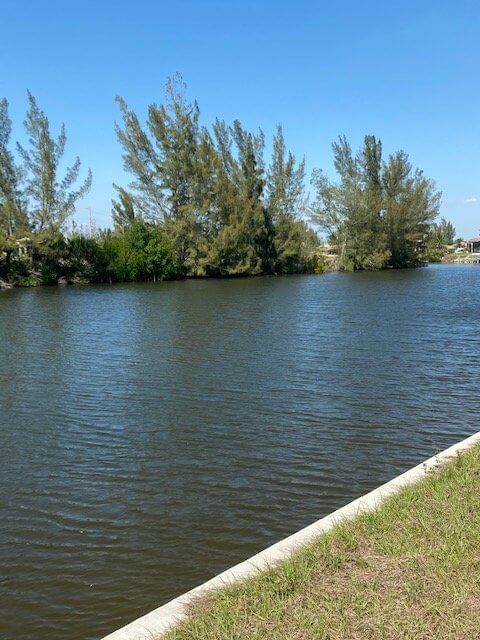 ———————————————————-
INVENTORY IS LOW…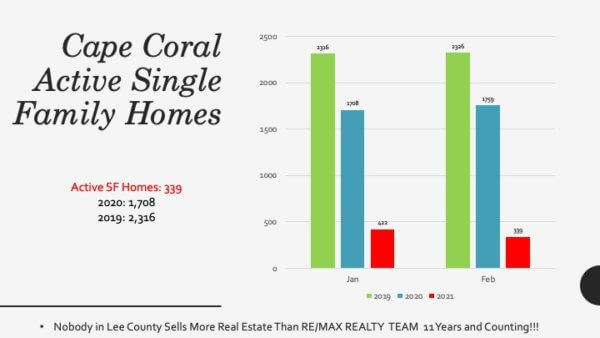 WHILE CLOSINGS CONTINUE TO CLIMB…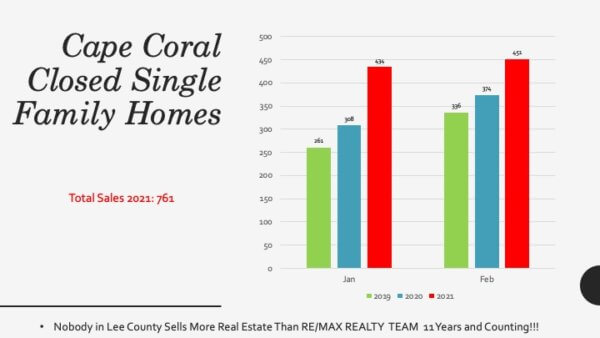 PRICES OVER LAST YEAR…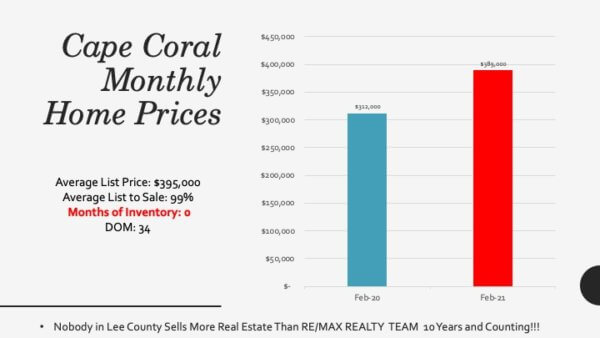 ———————————————————-

Backyard News:
"Cape Coral"
Inventory levels continue to be problematic, with levels at all time lows. Single family homes are down by 80% from Q1 2020 and are expected to continue to decline as we gear up for the spring and summer season
Even with the low inventory levels, sales are as strong as ever, with sales totaling 601 in March and over 1,400 in the first quarter alone. Homes are flying off the market in unprecedented ways.
The average single family home sold for $390k last month couple that with no months of inventory, we should see the list to sale ratio top off at 100% real soon.
"Fort Myers News"
Active single family homes at the lowest this market has seen; at 326 and there is no relief in sight.
Even with a listing deficit, the Fort Myers market had over 490 sales reported in March and sales for the quarter came in at 27% more than Q1 2020.
Fort Myers home prices are the results of active listings and a high sales chain reaction. With prices jumping 18% in just one year to $449k.
"Industry News"
Fannie Mae announced March 10 that they are limiting new loans secured by second homes or investment properties to 7% of the overall loans they purchase (roughly HALF their historic levels!), effective April 1.
o  While Fannie did not add any new "loan level pricing adjustments" (the fees borrowers pay for various perceived risk factors) in the announcement, many mortgage lenders added (or will soon add) substantial costs to these loans.
o  While not every investor raised their pricing adjustments immediately after Fannie's announcement, most eventually will.
o  Second Home – additional 1.750 price adjustment
o  Investment Property – additional 1.250 price adjustment
Current status: In its second committee, the Community Affairs Committee, waiting to be placed on the agenda.
For more… click here for Cape Deb's Blog…..
Cape Coral Weekly Market Watch
Have questions?  Need Cape Coral Real Estate assistance?  Call Deb Cullen at (239) 233-2322 or click here…..