Cape Coral Florida Real Estate News
March 2021
Florida and National News:
The Best Overall State? Fla. moved up to No. 10 this year   Read more…
NAR Study: Millennials dominate but Gen Z moving in  

Read more…

Job postings make work-from-home trend seem permanent  

Read more…

The problem with low mortgage rates?  Sellers who won't move   Read more…
Commercial 2021 Forecast: A rebound in all sectors   Read more…
Looking for a replacement washing machine? Good Luck  

Read more…

Bidding Wars without waived contingencies or all-cash offers   Read more…
Cash-paying out-of-towners frustrate Fla. local buyers  

Read more…
Taxes, Financing, Insurance, and more:
Fed meets, expects no interest rate hikes through 2023   Read more...
Flood insurance 2.0: Congress updates its analysis  

Read more…
Cape Coral and Florida News:
Cape Coral 'On the Move' Spring 2021 newsletter   Read more…
Study says Cape Coral is happiest City in Florida   Read more…
NAR names Cape Coral/Fort Myers a Top Commercial market  

Read more…

Cape Coral ranked in top twenty five up and coming Cities   Read more…
More than 200 Tiny Homes planned for new Charlotte Community  

Read more…

 Cape Coral rental ordinance   Read more…
Cape Coral drivers compared to other cities   Read more…
What Cape Coral residents want for their city's future   Read more…
Competitive housing market nearly impossible for first-time buyers  

Read more….

New Cape Coral Development Projects  

Read more…

NWNA President explains zoning change  

Read more…

Ribbon cutting ceremony to be held for Littleton Rd-Kismet Pkwy realignment  

Read more…
Tips:
Nature and Parks:
Cape Coral Parks and Recreation Spring Guide   

Read more…
———————————————————-
NOW IS THE TIME TO SELL !!!
***   RECORD LOW INVENTORY   *** 
***   It's a Sellers Market ! ***
HOMES AND LAND are selling quick!!!
I SOLD these and I can help you too! 
Call or email Deb today (239) 233-2322  – [email protected]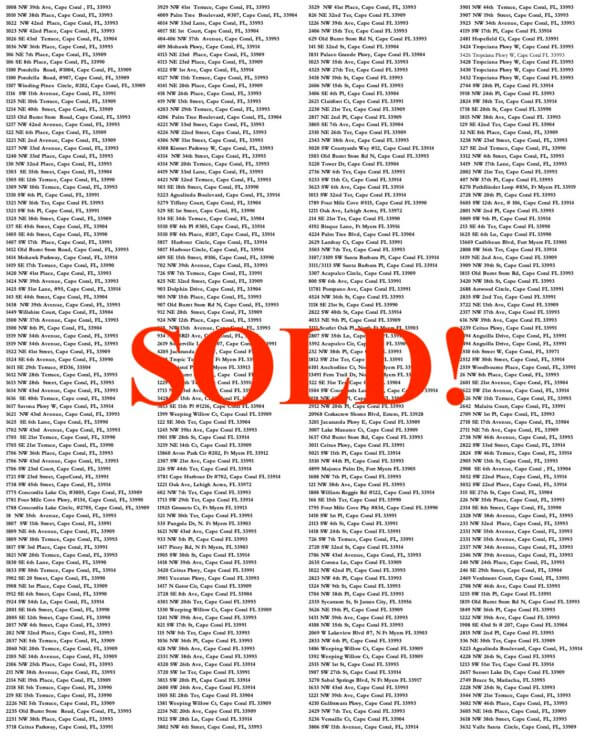 ———————————————————-
~  March's FEATURED Property ~
WATERFRONT – Gulf ACCESS!
1524 NW 36th Ave, Cape Coral  FL … Only $149,000
Beautiful GULF ACCESS WATERFRONT lot with BOATING ACCESS TO THE GULF OF MEXICO and beyond. Desirable WESTERN EXPOSURE will give you the sunsets you desire…..This 80' x 125' Vacant Lot is located on the 120' wide Rococo Canal in unit 60. This area is part of the City of Cape Coral's New Vision planning area with lots of new construction nearby. Don't miss out on this up and coming neighborhood. Imagine building your dream home….walking out your back door….getting in your boat and heading out to anywhere in the world….now that is ACCESS!!! Boating access to the Gulf of Mexico, beaches, and surrounding islands such as Cayo Costa, Cabbage Key, Sanibel, Boca Grand, etc. This area offers some of the best fishing to be found anywhere in the world. You'll also love that this lot is approx 3 miles from an 18-hole Championship Golf Course. Easy access to the Fort Myers International airport only about 30 miles away and Punta Gorda airport about 20 miles. Don't wait…call today!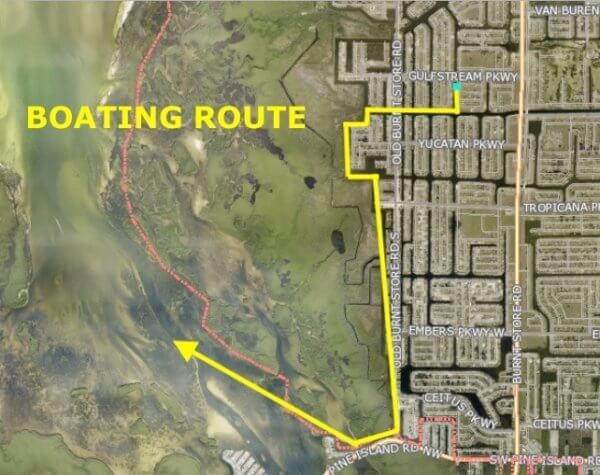 ———————————————————-
INVENTORY IS GETTING LOWER AND LOWER…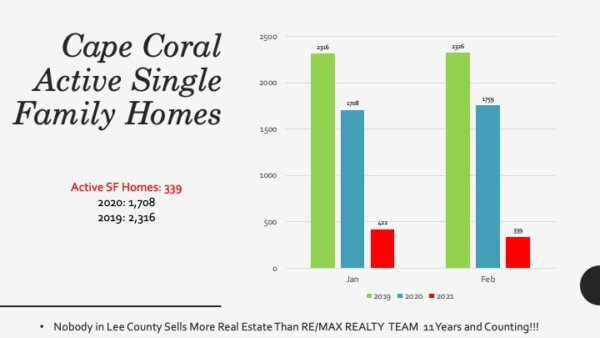 WHILE CLOSING CONTINUE TO CLIMB…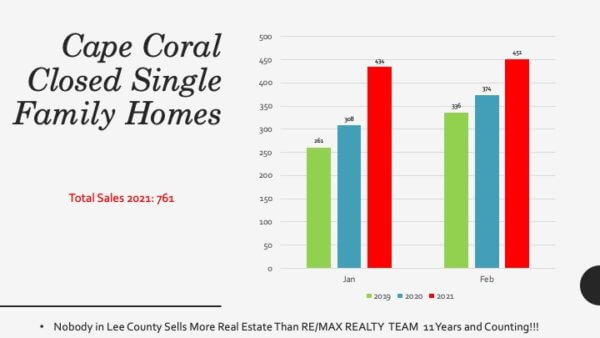 PRICES OVER LAST YEAR…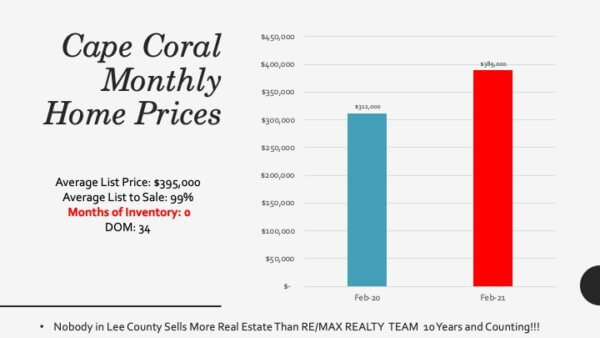 AVERAGE LIST TO SALE PRICE…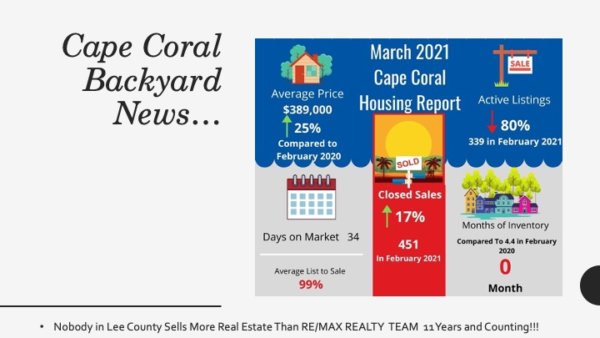 ———————————————————-
FROM THE ECONOMIC DEVELOPMENT OFFICE
PINE ISLAND ROAD NEWS: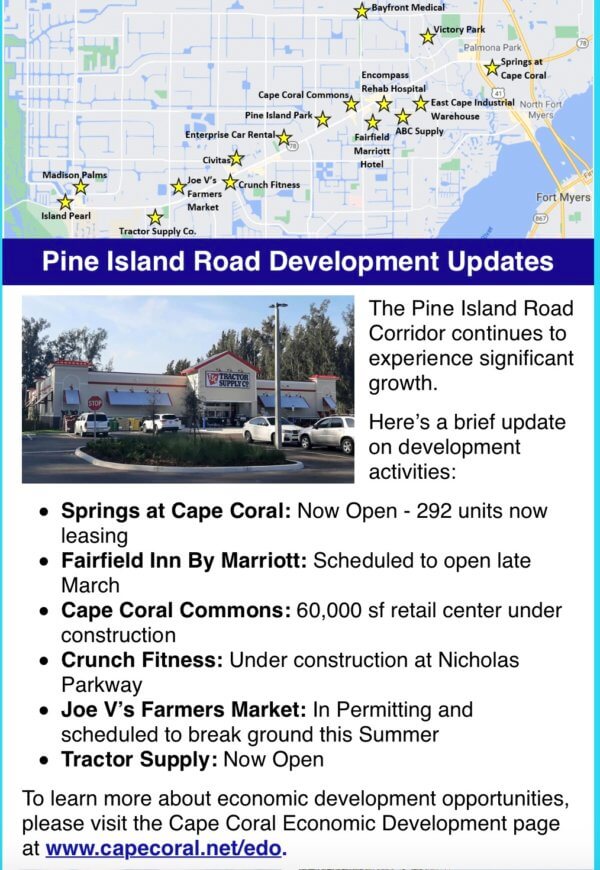 BURNT STORE ROAD AREA NEWS: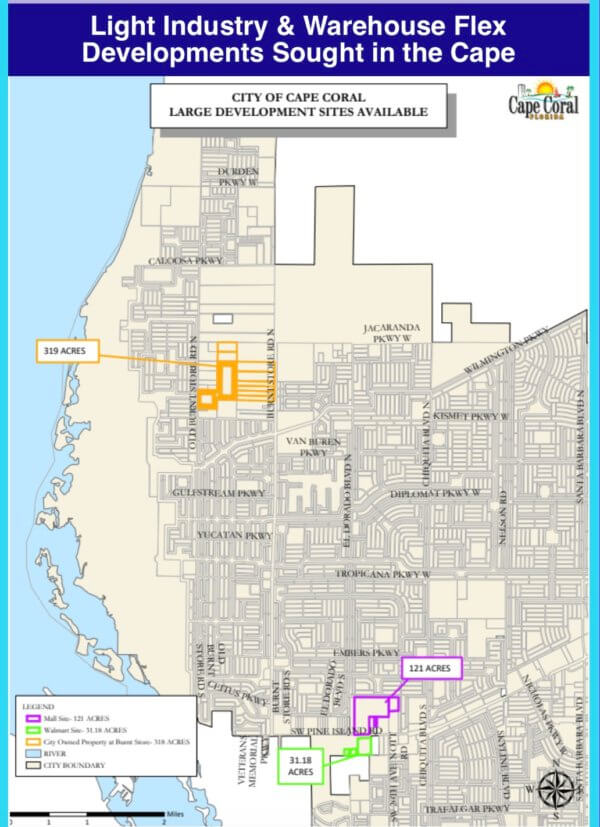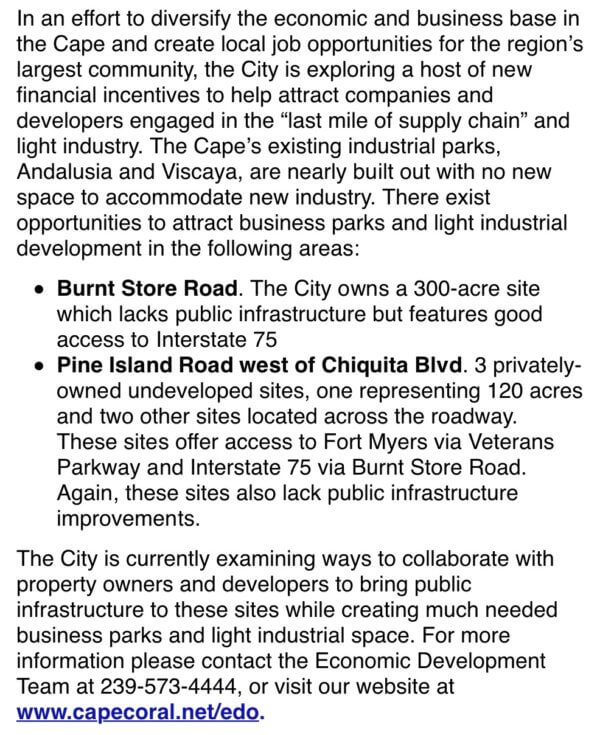 YACHT CLUB NEWS: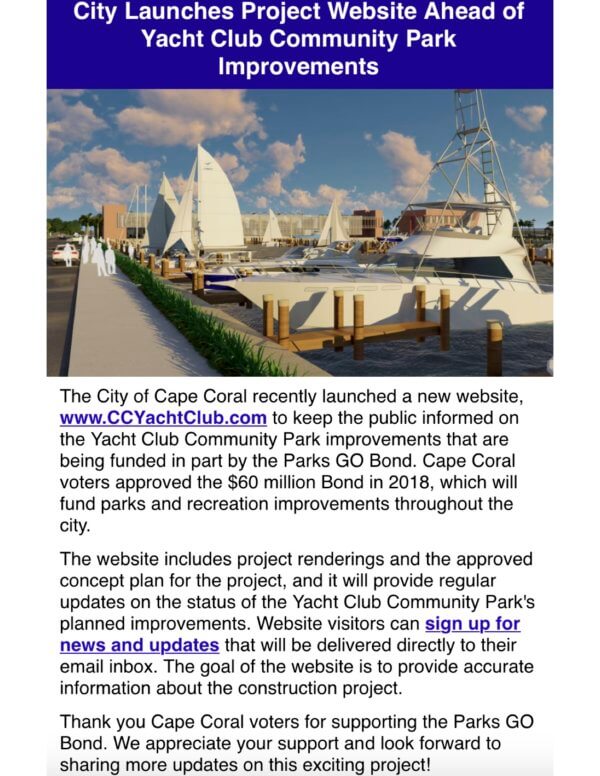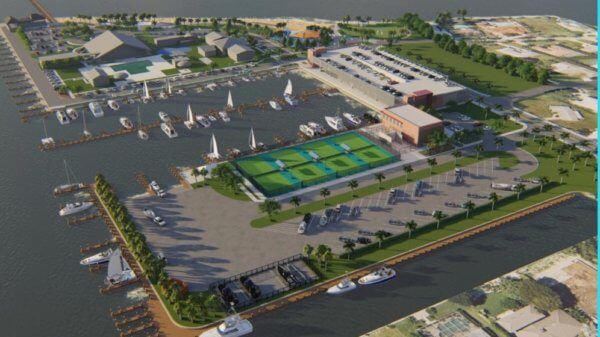 ———————————————————-
Backyard News:
"Cape Coral"
Relief of inventory in Cape Coral is nowhere in sight as they continue to plummet (20%) in just one month. Levels across the country are down approximately 50%+- and in Cape Coral those numbers are even higher at 80% from a year ago. This phenomenon is causing a chain reaction within sales, prices and new construction.
133% absorption rate. Single family homes are flying off the market even before they hit the market pushing prices to those of "boom" years. Sales are up 17% over 2020.
The huge supply crunch is felt in sales prices, with a single family home cost of $389,000 up 25% in one year.
"Fort Myers News"
While it's normal for this time of year to bring a reduction in inventory, nothing is normal about 2021: Active inventory levels are down 70% over last year and 22% in just one month.
Total closings for the month were 364, up 18% from a year ago and 15% in just one month. These numbers are more aligned with the spring market.
What is the real cost of waiting to buy a home? A 26% increase in one year as was seen in February. The average single family home sold for $421k.
"Industry News"
    Community Associations (SB 630) Ensures REALTORS® and other essential workers have the access needed – even during a declared state of emergency – to sell or lease condominiums and HOA properties. Contains a $150 transfer fee cap (current fee is capped at $100) that was negotiated with bill proponents last session. Allows community associations to extinguish discriminatory restrictions. Prevents an HOA from enforcing newly adopted long term rental restrictions against property owners who voted against the changes. The amended rental restrictions would apply however, to subsequent purchasers.
Current status: In its second committee, the Community Affairs Committee, waiting to be placed on the agenda.
For more… click here for Cape Deb's Blog…..
Cape Coral Weekly Market Watch
Have questions?  Need Cape Coral Real Estate assistance?  Call Deb Cullen at (239) 233-2322 or click here…..