Cape Coral Florida Real Estate News
February 2021
Florida and National News:
Where to Retire? WalletHub ranks Fla. No.1   Read more…
Fla.'s Housing Market wraps up 2020 strong despite covid-19   Read more…
FHFA extends foreclosure and eviction bans to June 30   Read more…
Miami Developer returns deposits as construction prices soar   Read more…
Dare to compare: What does $300,000 buy in Fla.?   Read more…
US Home Prices up 10.1% in Dec. – Highest since 2014   Read more…
Come on down! Fla. attracts retirees and many more  Read more…
Fla. Ranks No. 2 for short-term rental listed on Airbnb   Read more…
Taxes, Financing, Insurance, and more:
How Money Walks   Read more...
Cape Coral Officials to distribute Covid-19 relief money to residents   Read more…
Mortgage rates keep rising, hits 2.97% this week   Read more…
Cape Coral and Florida News:
Tips:
New Kitchen designs: The future is in the past   Read more…
3 Major Home Insurance mistakes to avoid   Read more…
"Cloffice" Closet turned into an office   Read more…
Nature and Parks:
———————————————————-
NOW IS THE TIME TO SELL !!!
***   RECORD LOW INVENTORY   *** 
***   It's a Sellers Market ! ***
HOMES AND LAND are selling quick!!!
I SOLD these and I can help you too! 
Call or email Deb today (239) 233-2322  – [email protected]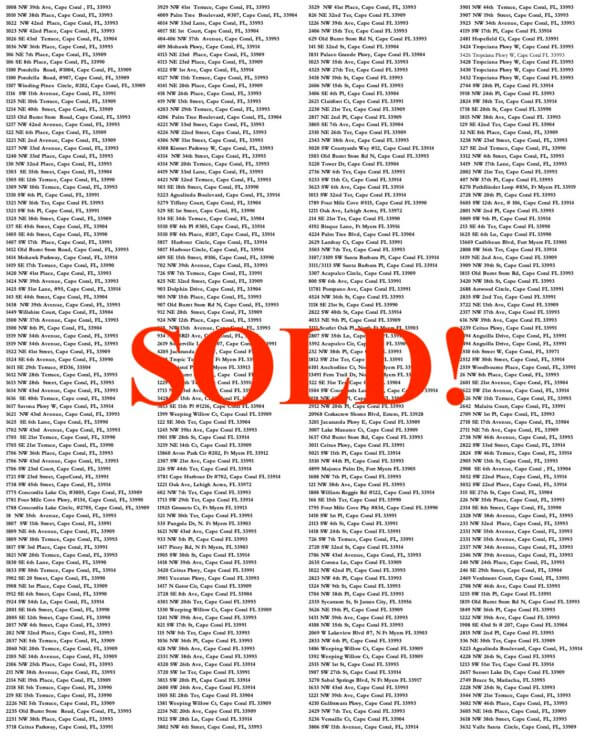 ———————————————————-
~  February's FEATURED Property ~
WATERFRONT – Gulf ACCESS!
2719 SW 17th Pl, Cape Coral  FL … Only $105,000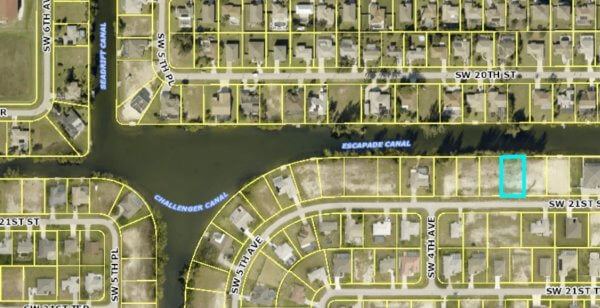 ———————————————————-
INVENTORY IS GETTING LOWER AND LOWER…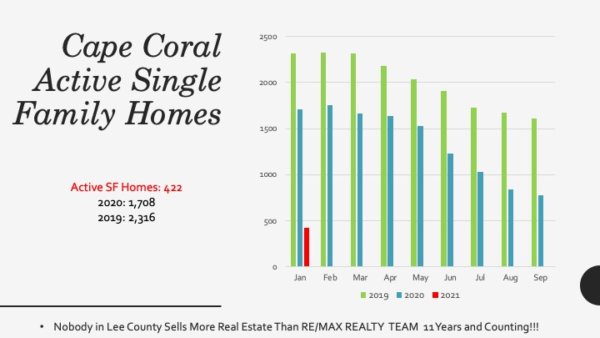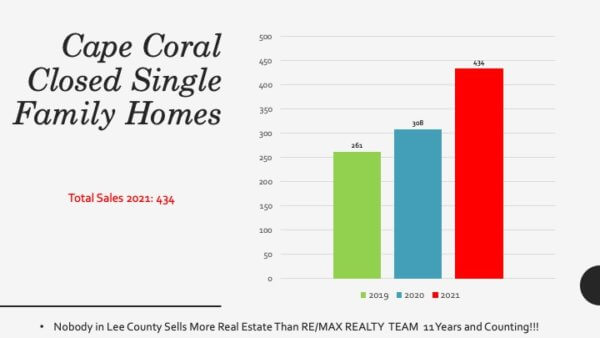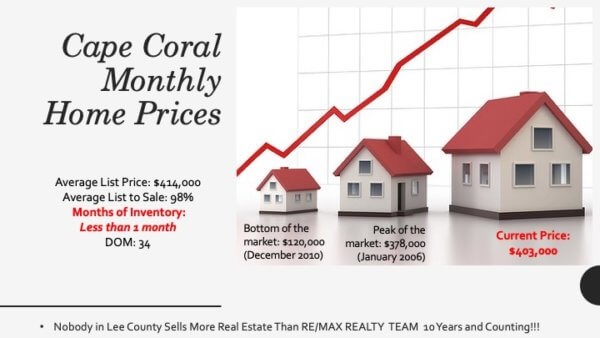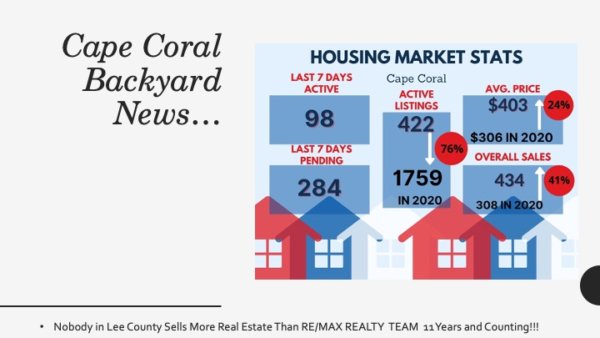 ———————————————————-
Backyard News:
"Cape Coral"
No end in sight for the inventory shortage as absorption rates hit over 100%, active inventory is less than one month at 2-3 weeks.
434 single family home sales in January, a rise of 40% in one year and 2021 broke the highest reported January on record of 2010.
The average sales price for a single family home sky rocketed by nearly $100k from just a year ago. Home prices exceeding those of the peak and jumped by 32% in one year.
"Fort Myers News"
A decline of over 60% in inventory from 2020, new construction permits reached over 300 in January but the high numbers offer no immediate relief to a very challenging market.
316 closings in Ft. Myers for single family homes, a jump of 16%, sales fell from a month ago which is common at the start of the year. The upward trend in sales is expected to continue well into 2021.
Prices holding strong for the second month in a row as they exceed prices of the boom (2005). The average home rose in price by $103,000 from those in January 2020.
"Industry News"
FHA to Permit DACA Status Recipients to Apply for FHA Insured Mortgage:
Effective January 19, 2021, the Federal Housing Administration (FHA) is permitting individuals classified under the "Deferred Action for Childhood Arrivals" program (DACA) with the U.S. Citizenship & Immigration Service (USCIS) and are legally permitted to work in the U.S. are eligible to apply for mortgages backed by the FHA.
o  FHA requirements remain in effect for all potential borrowers including DACA status recipients:
o  the property will be the borrower's principal residence;
o  the borrower has a valid Social Security Number (SSN), except for those employed by the World Bank, a foreign embassy, or equivalent employer identified by HUD;
o  the borrower is eligible to work in the U.S., as evidenced by the Employment Authorization Document issued by the USCIS; and the borrower satisfies the same requirements, terms, and conditions as those for U.S. citizens.
For more… click here for Cape Deb's Blog…..
Cape Coral Weekly Market Watch
Have questions?  Need Cape Coral Real Estate assistance?  Call Deb Cullen at (239) 233-2322 or click here…..