Cape Coral Florida Real Estate News
December 2020
State and National News:
'If I wait, home prices will come down — but will they?   Read more…
Fed keeps rate near zero — sees brighter 2021 economy   Read more…
FHFA extends foreclosures, evictions moratorium to Jan 31  

Read more…

Pandemic fears fuel new appliance options  

Read more…

Demand for Second Homes up 100% year-to-year  

Read more…
Taxes, Financing, Insurance, and more:
Cape Coral and Florida News:
Tips:
30 Style shortcuts for getting into the Christmas spirit  

Read more…

Smart Home? Take advantage with some Amazon Echo tips  

Read more…

Remodeling Homeowners should also update their insurance   Read more…
How can I get Ex's name off deed?   Read more…
Nature and Parks:
Cape Coral Parks and Recreations Winter Guide  

Read more…
———————————————————-
NOW IS THE TIME TO SELL !!!
***   RECORD LOW INVENTORY   *** 
***   It's a Sellers Market ! ***

HOMES AND LAND are selling quick!!!
I SOLD these and I can help you too! 
Call or email Deb today (239) 233-2322  – [email protected]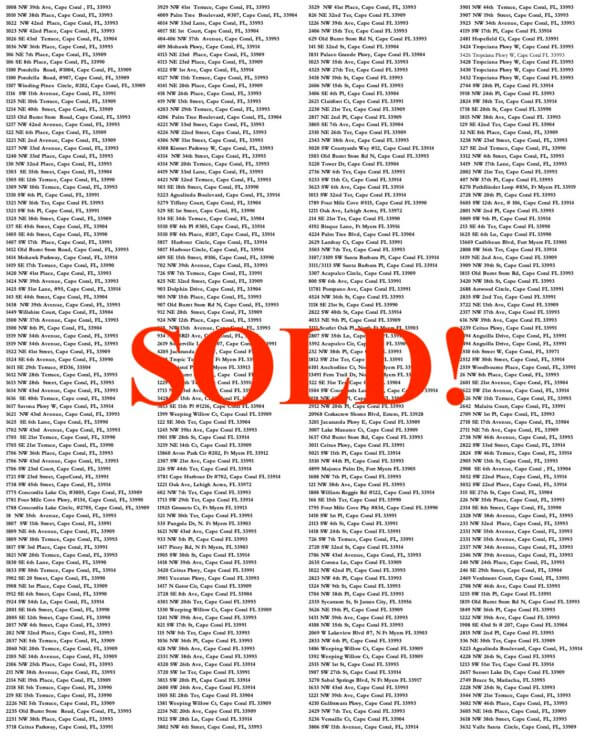 ———————————————————-
~  December's FEATURED Property ~
Waterfront Lot….3019 Ceitus Parkway, Cape Coral  FL … Only $25,000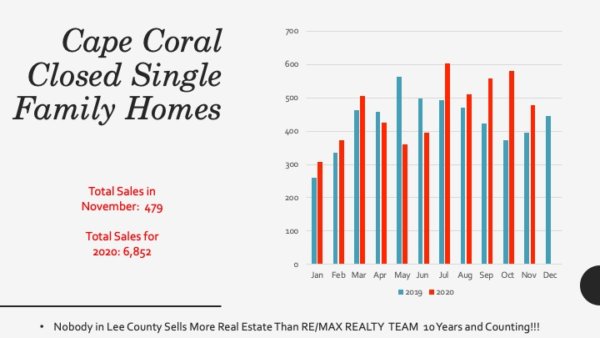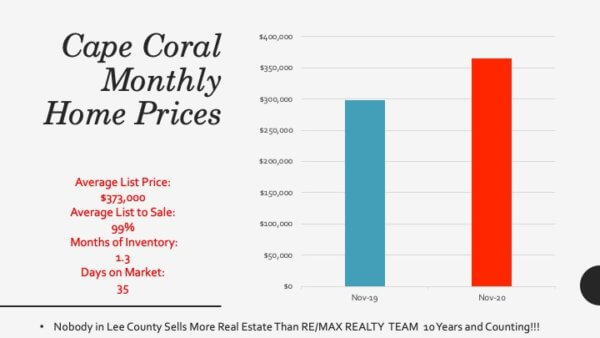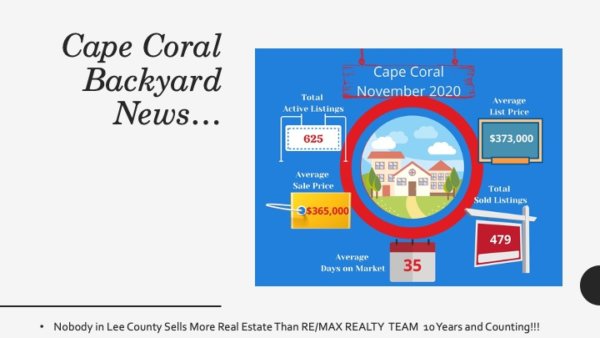 Backyard News:
"Cape Coral"
625 active single family home in Cape Coral, as in years past the third quarter normally brings approximately a 5-8% increase in listing inventory. 2020 however, has become the exception, with levels the lowest they've ever been and an absorption rate of 77%.
Sales fell in November by 17% from last month but they are considerably higher than last year and is one of the highest Novembers for closings since 2009, when distressed sales made up over 65% of the market.
 2020's lack of inventory has meant a rapid hike in prices. Currently, Cape Coral is $13k from the peak price of 2006 ($378k). Home values increased 23% from last year and list to sale ratio hit 99%.
"Fort Myers News"
A 45% drop in inventory year over year and a drop of 8.2% from just one month ago. Nearly 50% of the market was absorbed last month as buyer demand continues and supply is unsustainable.
A reported 357 closings for the Fort Myers market last month a 34% increase year over year. 2020 has surpassed closings for 2019 by 22% as of November.
The average sales price of a single family home in November was $377k vs. $326k just a year ago. While good for homeowners, at a certain point home price appreciation will offset the savings from our low interest rates of today.
"Industry News"
Fannie Mae loan limits are increasing from $510,400 to $548,250 effective January 2021.
FHA loan limits increasing effective January 1, 2021. The limit for Title II and reverse mortgages rises from this year's base of $331,760. In high-cost areas, the limit can go as high as $822,375, up from $765,600 in 2020.
———————————————————-
For more… click here for Cape Deb's Blog…..
Cape Coral Weekly Market Watch
Have questions?  Need Cape Coral Real Estate assistance?  Call Deb Cullen at (239) 233-2322 or click here…..