Cape Coral Florida Real Estate News
October 2020
State and National News:
Taxes, Financing, Insurance, and more:
Cape Coral and Florida News:
Tips:
Pandemic Tips: How to move safely   Read more…
Tips to prepare a budget before buying a new home   Read more…
Nature and Parks:
Cape Coral Parks and Recreation Fall 2020 Guide   Read more…
———————————————————-
RECORD LOW INVENTORY!!!! 
If you (or someone you know) are thinking about selling your home …. NOW IS THE TIME!!!  Call Deb today…239-233-2322!
———————————————————-
~  October's FEATURED Property ~
2029 NW 4th Ter, Cape Coral  FL … $299,900
TILED THROUGHOUT. Open Kitchen features STAINLESS APPLIANCES & GRANITE and offers a view of the pool. Two living areas can be divided with custom sliding barn door. Separate OFFICE/DEN features a glass panel door. Split bedroom design with Primary bedroom on one side of the home & guest rooms on the other for the utmost privacy. Guest bedrooms have nearby bathroom which features: tub/shower combo. Primary bedroom offers WALK-IN CLOSET and en suite bathroom featuring a large soaking tub with shower combo. Laundry room with WASHER/DRYER included. WHITE PANELLED FENCING lets your little ones and furry family enjoy the backyard. Extra refrigerator in garage is included. Front-screened entryway with pavers. Workbench in garage. Stunning mature landscaping with gorgeous EXOTIC PALM TREES. Timer pool pump only a year old. STORM PANELS available plus the City shows location is NOT IN SPECIAL FLOOD HAZARD AREA. Cape Coral Community boat ramps offer boating access to the Gulf of Mexico, Sanibel Beach, Fort Myers Beach, Cayo Costa, Cabbage Key, Boca Grand and more. Ft Myers Int'l airport about 28 miles away & Punta Gorda airport are only about 20 miles away.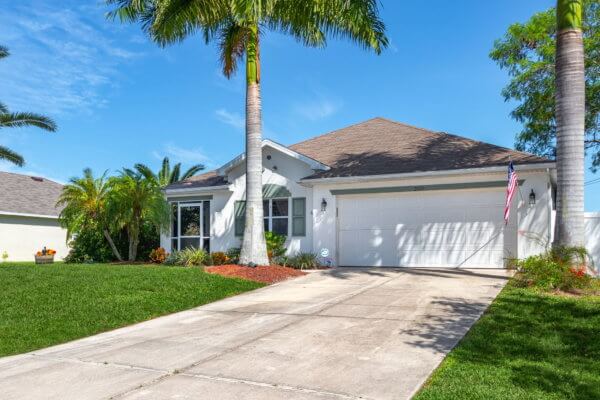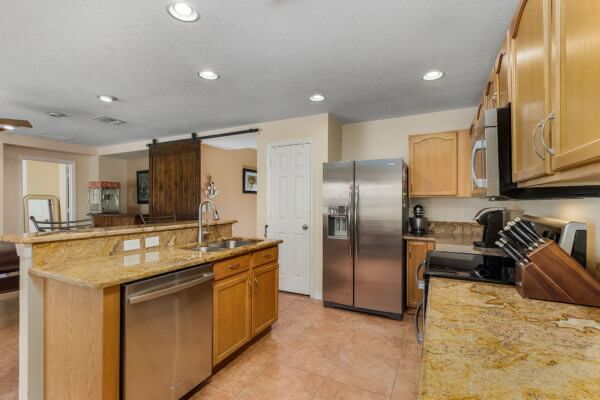 Backyard News:
"Cape Coral"
August brought an increase of listings to the market, however with the absorption rate over 65% the newly acquired listings were quickly off the market, bringing the inventory to once again record lows.
Sales fell from last month but remain at the highest reported August since 2009. It's not uncommon for sales to dip towards the end of the third quarter and with listings being so low, sales could continue to fall.
Home values; due to shrinking inventory and strong buyer demand, have narrowed the gap from the peak prices of 2006. Prices rose 18% year over year and are only expected to continue. Current home prices are $337,000 and total days on the market are less than 60 days.
"Fort Myers News"
There is no immediate relief for the FM market in terms of active single family homes, levels reached a new record with available homes hitting 858 a difference of 32% from last year.
Highest number of reported sales for August ever, the absorption rate nearing 40% which is unprecedented.
Prices rose by double digits, the average single family home tops at $370,000 and are 15% off peak prices of 2005.
"Industry News"
The Fannie Mae "COVID Fee" that was slated to go into effect on September 1st, has been extended to December 1st. The fee is an additional 50 bps which will be assessed on every loan. closed which will cause all lenders to increase their rate to cover that added cost by Fannie on to their clients.
Due to a number of variables (interest rates, limited inventory, buyer demand, etc.) Many lenders have become delayed with the influx of purchases and refinances. Setting the expectation with buyers regarding rate locks is now even more important.  Rate locks are typically 30, 45, and 60 days- anything over a 30 day rate lock does cost the borrower (Rate Lock terms from 30-60 days is around .17. 90 days is .50. 120 day; if available, is 1.250).
———————————————————-
For more… click here for Cape Deb's Blog…..
Cape Coral Weekly Market Watch
Have questions?  Need Cape Coral Real Estate assistance?  Call Deb Cullen at (239) 233-2322 or click here…..