Cape Coral Florida Real Estate News
August 2020
State and National News:
Taxes, Financing, Insurance, and more:
Hurricane Irma damages? Make a claim soon   Read more…
Long-Term Mortgage Rates almost rise above 3%  

Read more…

New CFPB Loan should help low-income homebuyers  

Read more…

Mortgage refinancing to get a bit more expensive   Read more…
Cape Coral and Florida News:
Preliminary proposal replaces westbound Cape Coral bridge  

Read more…

Lee County purchases land near Four Mile Cove for $6 million  

Read more…

Checking in with Conservation 20/20: What land is destined to become public?   Read more…
Parts of SW Florida's real estate market are thriving  

Read more…

Cape Coral celebrates 50th Anniversary of City Incorporation  

Read more…

Cape Coral City Leaders are designing a Bimini Basin mooring field  

Read more…

New City Manager begins three-year contract   Read more…
North Cape Coral utility expansion expected to be completed next month  

Read more…

Cape Coral reapplying for permit to remove Chiquita Lock  

Read more…

Cape Coral considering tighter fertilizer restrictions   Read more…
Cape Coral approves funding for rent and mortgage assistance   Read move…
Tips:
How to locate the best internet service providers in Cape Coral   Read more…
Start planning your Fall garden for a robust harvest   Read more…
Nature and Parks:
Ding Darling Wildlife Society   Read more…
Six Cape Coral parks you'll want to explore   Read more…
Cape Coral Recreation "Recreation at Home"  

Read more…
———————————————————-
RECORD LOW INVENTORY!!!!  If you (or someone you know) are thinking about selling your home …. NOW IS THE TIME!!!  Call Deb today…239-233-2322!
———————————————————-
~  August's FEATURED Property ~
3011 Ceitus Pkwy, Cape Coral  FL … $449,900
RARE OVERSIZED OASIS!!! Exclusive piece of Paradise! *** SELLER WILL PAYOFF ALL $34,000+ worth of ASSESSMENTS FOR YOU*** Stunning INTERSECTING & BASIN VIEWS from approx 255 ft of waterfront. Lush landscaping! Recently resurfaced TENNIS COURT with fiberglass mat, new net & backboard. Solar and heated POOL with waterfall. Great room OPEN FLOOR PLAN with sliders that pocket behind the wall. Two Master suites; one with large sliders & entry to pool, waterview, walk-in closet, & en suite bath. The other with en suite bath and office with separate entry. Great opportunity for an In-Law Suite. Guest bedroom has POOL BATH nearby. Owners have made substantial improvements in the past few years: NEW pool Fountain, NEW high efficiency a/c system, NEW hot water heater, entire house re-piped, NEW gorgeous black aluminum FENCE, upgraded lights and fixtures, Suntamer window filters for energy saving, NEW roof on WORKSHOP along with updated electrical & insulation, GRANITE & STAINLESS appliances, 8" of attic insulation, HUGE BONUS ROOM added, and more… Only about 28 miles from the Ft Myers Int'l Airport and 21 miles to Punta Gorda Airport. Walking distance to shopping, restaurants & more…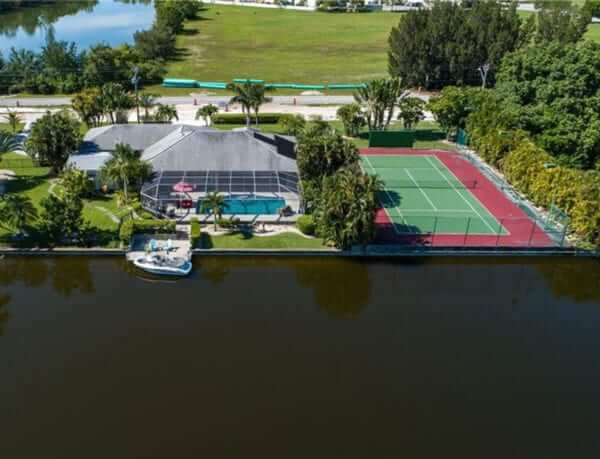 Backyard News:
"Cape Coral"
Listings have continued to fall at record paces and there is no relief in sight. This time of year typically brings lesser inventory as it is, however, levels are down 51% year over year compared to nationally where they are down 16.6%.
Pendings have outnumbered inventory, with pendings being a leading indicator of future sales, July reported the highest number of pendings in over 3 years.
604 closings in July. The highest number of closings in over 15 years. Sales have not been this high for a July since 2009 when total sales reported equaled 627.
72% of the Cape Coral inventory was absorbed last month, the single highest month ever recorded.
"Fort Myers News"
Fort Myers listings are down 15% from June and are down 35% from a year ago. Similar to Cape Coral, inventory levels have not been this low in over 15 years.
Months of inventory, double digit appreciation, high absorption rates are all the makings for an unsustainable long-term market. If this trend continues 2021 will be the correction year.
Nearly a 15% hike in prices from last year and 11% from June.
"Industry News"
Non-QM latest announcements:
Bank Statement Is Even Better!

24 months of either business OR personal bank statements
Rates starting in the low 5's
Increased cash-out LTV to 80%
Investor Cash Flow / DSCR (Debt Svc. Coverage Ratio) Is Even Better!

New FICO down to 680 and LTV buckets up to 75%
Rates starting in the high 5's
Increased cash-out LTV to 70%

Platinum Jumbo is back!

Borrowers who just miss Prime
LTV up to 90%
Minimum loan amount $250,000
Credit event seasoning 48 months
Rates starting in the mid 4's and there is never MI
Asset Qualifier is back!
Loans up to $3 million – minimum loan of $250,000
No employment, no income, no DTI
5 years seasoning foreclosure, short sale or bankruptcy
Primary residence, purchase or refinance
Interest only program available
Non-warrant able condos considered

CFPB has extended forbearance to up to 360 days. Mortgage services may not begin the foreclosure process until at after August 31st. For those that are experiencing financial hardship due to the pandemic, borrowers can request and obtain a forbearance for up to 180 days and also have the right to request and obtain an extension for up to another 180 days.
Eviction ban has been extended until September 1st.
———————————————————-
For more… click here for Cape Deb's Blog…..
Cape Coral Weekly Market Watch
Have questions?  Need Cape Coral Real Estate assistance?  Call Deb Cullen at (239) 233-2322 or click here…..