Cape Coral Florida Real Estate News
July 2020
State and National News:
Taxes, Financing, Insurance, and more:
Cape Coral and Florida News:
Tips:
———————————————————-
RECORD LOW INVENTORY!!!!  If you (or someone you know) are thinking about selling your home …. NOW IS THE TIME!!!  Call Deb today…239-233-2322!
———————————————————-
~  July's FEATURED Properties ~
1637 OLD BURNT STORE RD N, Cape Coral  FL … only to $62,000
Fabulous WATERFRONT – GULF ACCESS LOT!!!!! OVERSIZED 80′ x135′ LOT is ready for your dream home. Located in unit 61 of the NW Cape–offering boating access to the Gulf of Mexico and beyond. This area is part of the City of Cape Coral's New Vision planning. Big things are on the way! You will love the EASTERN EXPOSURE as you enjoy the sun rise. Imagine building your dream home…walking out your back door….getting in your boat and heading out to anywhere in the world. Now that's ACCESS!!! Boating access out to the Gulf of Mexico, beaches, and surrounding islands such as Cayo Costa, Cabbage Key, Sanibel, Boca Grand…. Not to mention…this area offers some of the best fishing to be found anywhere in the world. You'll also love that it is only a few miles away from an 18-hole Championship Golf Course. INVESTORS—don't miss out on this up and coming area with lots of new Custom homes being constructed in the neighborhood. Short drive to shopping, restaurants and more. Fort Myers International airport is only about 35 miles away and Punta Gorda airport approx 18 miles away.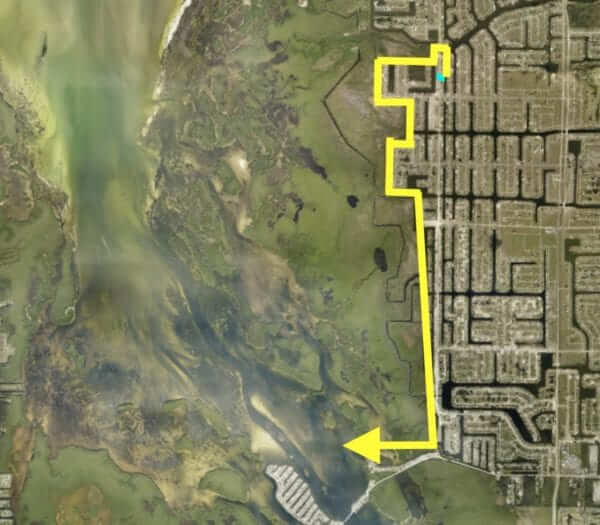 Backyard News:
"Cape Coral"
Dangerously low inventory levels the tightness is a benefit to sellers but it's a double edge sword as units will drop due to lack of homes on the market. Levels have not been this low in over 15 years (1,033).
What started as a most promising year took a nose dive with the health crisis. Sales are down 46% over last year and although the limited inventory has caused prices to rise, we are treading into uncharted territory. Nearly 40% of our market was absorbed just last month.
"Fort Myers News"
26% absorption rate for FM last month. Active inventory has been steadily decreasing and sales are down ytd by 19%. Although inventory is not as tight as our neighboring cities, it is at 3.8 months and is likely to continue to decline during the summer mos.
FM prices are off by 19% from peak prices of 2005, prices are expected to rise but remain pretty close to those of 2019 although that is all predicated on the inventory levels remaining stable.
"Industry News"
Self Employed bank statement loans are back. Lenders use:

50% of the average deposits every month for income and no tax returns are required.

Record low interest rates and health crisis has caused many lender delays a way to avoid any unnecessary delays is to assist lender with all documentations quickly.
A new service animal law Effective July 1, 2020 largely written to address the abuse of "online certificates," which allege to be the gold standard in determining whether or not an animal is a "true" emotional support animal (ESA) or not.

"An emotional support animal registration of any kind, including, but not limited to, an identification card, patch, certificate or similar registration obtained from the internet is not, by itself, sufficient information to reliably establish that a person has a disability or a disability-related need for an emotional support animal." Let's break down the law:
Pursuant to Section 760.27 of the Florida Statutes, "it is unlawful to discriminate in the provision of housing to a person with a disability or disability-related need for, and who has at or at any time obtains, an emotional support animal." Translation: If a prospective buyer or tenant has an ESA or, at any point time obtains an ESA, the housing provider may not discriminate on this basis.
When a person's disability isn't readily apparent, a housing provider may request information to support the claim of a disability. This could come in various forms, i.e. receipt of disability benefits from the state or a letter from a treating health provider stating the person does in fact have a disability.
In establishing the need for a particular ESA, a housing provider may ask for evidence to show the need for the ESA itself. The law also states that if the person requests to keep more than one ESA, the housing provider can ask for information specific to each animal. This is in addition to being able to request proof of vaccinations.
———————————————————-
For more… click here for Cape Deb's Blog…..
Cape Coral Weekly Market Watch
Have questions?  Need Cape Coral Real Estate assistance?  Call Deb Cullen at (239) 233-2322 or click here…..