Cape Coral Florida Real Estate News
June 2020
State and National News:
Taxes, Financing, Insurance, and more:
Buyers don't read the mortgage paperwork   Read more…
Mortgage forbearance advice now offered in 6 languages   Read more…
FHFA Foreclosure-Eviction Moratorium extended to Aug 31   Read more…
Cape Coral and Florida News:
Tips:
How do you politely sidestep a handshake?   Read more…
The right way to clean your cell phone   Read more…
Parks & Nature:
DeSantis' Cabinet approves Land Conservation Deals   Read more…
Cape Coral VIRTUAL Home Recreation   Read more…
New Playground at NW Softball Complex & Other Recent Parks GO Bond Projects
The Parks Division has been working with contractors to complete Parks GO Bond improvement projects over the past several months including the following recently completed projects:
Horton Park – Two new pavilions have been constructed and completed to offer some shade while enjoying the water views from this riverside park;
Koza/Saladino Park – The new playground and shade structure construction is complete and ready for use! "Batter Up" is the theme of this new playground;
Northwest Softball Complex – The all new "Branch" playground system is complete and ready for the kids to use their imagination and start the adventure! Construction of two new pavilions has also been completed;
Pelican Baseball Complex – The new playground, with an environmental and wildlife theme, and shade structure construction is complete and ready for the kids to enjoy;
Strausser BMX Sports Complex – Paved parking area and concrete bicycle staging lanes are completed.
For more information on the Parks GO Bond and project updates, visit www.capecoral.net/GObond or click below.
———————————————————-
~  May's FEATURED Properties ~
166 SE 15th Ter, Cape Coral  FL 
reduced to

$29,000
ASSESSMENTS PAID !!! FABULOUS WATERFRONT LOT located in Unit 24… Highly desirable SOUTHERN EXPOSURE lets you enjoy just the right amount of sun and shade. EVERYONE IS MOVING TO SUNNY SW FLORIDA!!! Land of blue skies, lots of sunshine and beautiful palm trees. Imagine building your dream home in this lovely community and living the Paradise dream…. Or keep it as an INVESTMENT as we watch the City grow!!! Cape Coral offers Saltwater Boating Access from different Community Boat Ramps located throughout the city giving you access to the Gulf of Mexico, beaches, and surrounding islands such as Cayo Costa, Cabbage Key, Sanibel, Boca Grand… Not to mention…this area offers some of the best fishing to be found anywhere in the world. Plus, you'll love the fact that this lot is only about 24 miles from the International Airport. County map shows that this lot is NOT in a Special Hazard Flood Area. Conveniently Located: close to shopping, restaurants, golf courses, etc…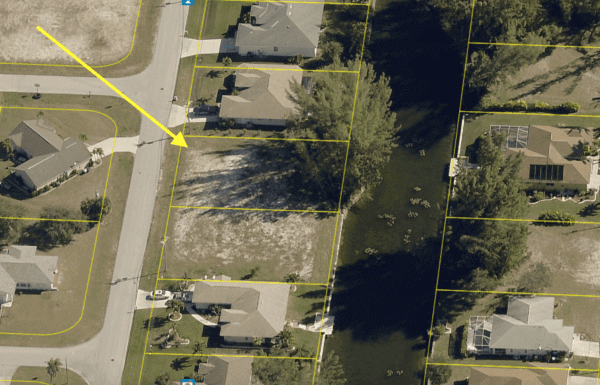 Backyard News:
"Cape Coral"
Inventory levels have reached record lows, the last time levels were this low was over 5 years ago.
National (inventory) levels range between 15-19% and in Cape Coral levels have dropped by 30% since the beginning of the year.
Pent up demand and a tight inventory has maintained the list to sale ratio at a competitive 97% and single family home prices were up by nearly 4%.
Sales dropped year over year by 4.3% and month over month by 36%. Total closings in Cape Coral for May were 360.
Leading indicator for housing activity is up by 30% respectively.
"Fort Myers News"
Inventory fell by 7% from April to May the lowest they've been since 2015.
Sales in May fell to 236, a 15% drop from April, with an already tight single family home inventory, May saw an absorption rate of 21% and is expected to increase.
The highest gain of single family home prices in all Lee County markets, 23% increase in one year.
The average home in FM sold for $394,000 and the months of inventory continue to be below 5 months.
"Industry News"
Homeowners who are in COVID-19 forbearance but continue to make their mortgage payment will not be penalized," said FHFA Director Mark Calabria, "actions by the FHFA allows homeowners to access record low mortgage rates and keeps the mortgage market functioning as efficiently as possible."

Borrowers are eligible to refinance or buy a new home if they are current on their mortgage (i.e. in forbearance but continued to make their mortgage payments or reinstated their mortgage).
Borrowers are eligible to refinance or buy a new home three months after their forbearance ends and they have made three consecutive payments under their repayment plan, payment deferral option, or loan modification.

Myths regarding purchasing vacation homes:
You need 20% down to buy a vacation home. WRONG. Many people believe they need 20% down however, one only needs 10% down and 5% of that can be a gift from a family member.
The vacation home must be 50 miles away from your current residence. WRONG. You can live in Fort Myers and buy a vacation home in Lee County on one the barrier islands like Pine Island, Sanibel or Fort Myers Beach. A place to keep your boat and go out for the weekend.
You can only have one vacation home. WRONG You can have several. Mountain home, beach homes, Skiing cabin etc.
You must own your current home to buy a vacation home. WRONG. You can rent your current primary residence and buy a vacation home. You do not need to own your primary residence or even pay rent on your primary residence.
———————————————————-
For more… click here for Cape Deb's Blog…..
Cape Coral Weekly Market Watch
Have questions?  Need Cape Coral Real Estate assistance?  Call Deb Cullen at (239) 233-2322 or click here…..