Cape Coral Florida Real Estate News
May 2020
State and National News:
Taxes, Financing, Insurance, and more:
U.S. Long-Term Mortgage Rates ease; 30 yr at 3.24%   Read more…
Florida Veterans' Benefit Guide 2020   Read more…
The next thing expected to go viral? Mortgage relief scams   Read more…
Cape Coral and Florida News:
Tips:
How to get just about anything delivered to your house   Read more…
15 Bathroom lighting ideas   Read more…
10 Secrets we learned from Grandma regarding victory gardens   Read more…
———————————————————-
~  May's FEATURED Properties ~
121 NW 38th Ave, Cape Coral  FL —  $109,900
Fabulous BOATING ACCESS from this WATERFRONT GULF ACCESS LOT located close to the SEVEN ISLANDS. Nice view across the 125' Fishingrod Canal located in unit 59 of the NW Cape–offering boating access to the Gulf of Mexico and beyond. Lot dimensions are 80' x 125'. This area is part of the City of Cape Coral's New Vision planning and the City water/sewer/irrigation project is almost finished. Gorgeous new construction happening all around. Imagine building your dream home…walking out your back door…. getting in your boat and heading out to anywhere in the world. Now that's ACCESS!!! Close to the bridge for quicker boating out to the Gulf of Mexico, beaches, and surrounding islands such as Cayo Costa, Cabbage Key, Sanibel, Boca Grand…. Not to mention…this area offers some of the best fishing to be found anywhere in the world. You'll also love that it is only about 3 miles away from a 18-hole Championship Golf Course. INVESTORS—don't miss out on this up and coming area with lots of new Custom homes being constructed in the neighborhood. Close to shopping and restaurants and more. Ft Myers Int'l airport is only about 30 miles away & Punta Gorda airport approx 20 miles away.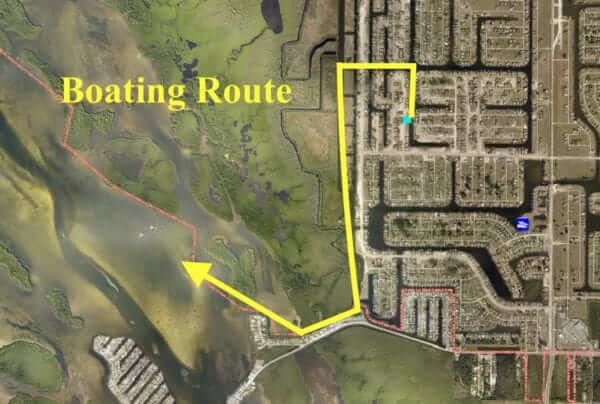 1608 NW 7th Pl, Cape Coral  FL —  $199,000
OPEN FLOOR PLAN with HIGH CATHEDRAL CEILINGS. Kitchen offers lots of cabinets, pantry and long seating bar for extra seating. Walking in the front you'll enter the GREAT ROOM with beautiful large arched windows, open kitchen and breakfast area. Main areas have TILE on the diagonal and bedrooms have carpet. Sliders offer a nice view of the backyard. Split bedroom design with Master on one side of the home & guest rooms on the other for the utmost privacy. Both Guest bedrooms have direct access to a shared JACK & JILL BATHROOM. Den with FRENCH DOORS. Master bedroom has a HUGE WALK-IN CLOSET! En Suite Master bath features a spacious soaking tub and separate shower. Separate Laundry room. Backyard with concrete patio. Western Exposure. Your insurance company will like that this home comes with Hurricane shutters available and City shows location is NOT IN A SPECIAL FLOOD HAZARD AREA. Cape Coral Community boat ramps offer boating access to the Gulf of Mexico, Sanibel Beach, Fort Myers Beach, Cayo Costa, Cabbage Key, Boca Grand and more. New Construction nearby. Ft Myers Int'l airport is only about 30 miles away & Punta Gorda airport approx 20 miles away.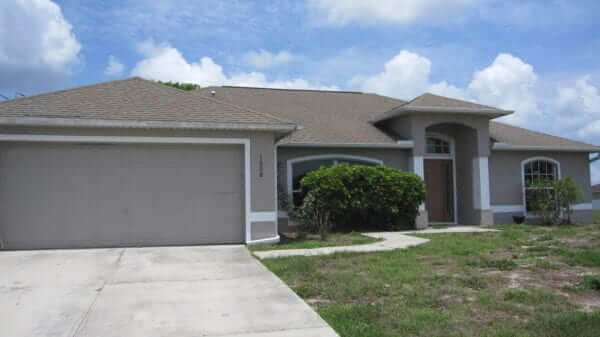 ———————————————————-
~  Vacation Rentals Can Resume in Lee County  ~

On May 15, Gov. Ron DeSantis announced that beginning Monday, Florida was in full Phase One of reopening. Full Phase One includes a stipulation that vacation rentals can reopened on a county-by-county basis as long as the county submits a plan to Florida Department of Business and Professional Regulation and it is approved by the secretary of DBPR.
The plan was unanimously approved by the Lee County Commission on May 19 and as of May 21, Lee County's Safety Plan has received final approval.
Plan details:
Vacation rentals should open and operate for in-state reservations only (i.e. only Florida residents).
Short-term rental properties should prohibit rentals to persons traveling internationally or from a state or locality with a substantial community spread of COVID-19.
Short-term rental properties should maintain 72 hours between guest check-ins to allow for effective cleaning and disinfecting of the rental unit.
Short-term rental properties shall thoroughly clean and disinfect the property between rentals following CDC guidelines.  www.cdc.gov/coronavirus/2019-ncov/community/disinfecting-building-facility.html
Short-term rentals shall post signage in all units detailing cleaning and sanitation procedure.
———————————————————-
~  Cape Coral North 2 Utilities Expansion Availability  ~
THIS LINK is the anticipated 'NOTICE OF AVAILABILITY' Timeline Map provided by the City UEP project.
It is highly recommended before or upon receipt of the 'NOTICE OF AVAILABILITY' letters that affected residents identify and sign a contract with one of the Plumbing contractors supporting the North 2 UEP project if they are choosing this option.
There is an option for the residents to perform the connections meeting all specified codes and regulations.
When the 'NOTICE OF AVAILABILITY' letters are received residents will identify the plumber method (contractor or resident) in the NOA letter and go to City Hall and pay the Permit fees; $75.00 septic, $310.00 meter and show utility bill to avoid a $100.00 utility deposit.
Residents have a 180 day time frame to complete the connections once the 'NOTICE OF AVAILABILITY' letters are received.
We are aware of only 5 contractors supporting this North 2 effort:
Rohaley (discount for 10 or more)
Honc Pine Island
Davis Jr Plumbing
Master Piping and Plumbing
Oscar and sons
With only these 5 plumbing companies supporting the North 2 UEP there could be cases where they cannot complete the installation within the 180 days specified attachment time frame.
It is very important that residents can show they responded in a timely manner (identified plumbing contractor, paid permit fees) to the 'NOTICE OF ASSESSMENT' letters.
The City does have the ability to extend the connection time frame if a legitimate hardship is justified.
———————————————————-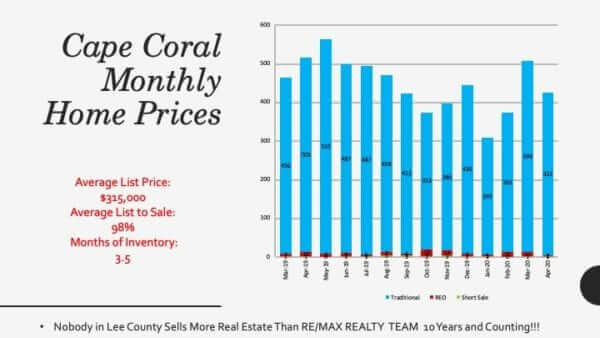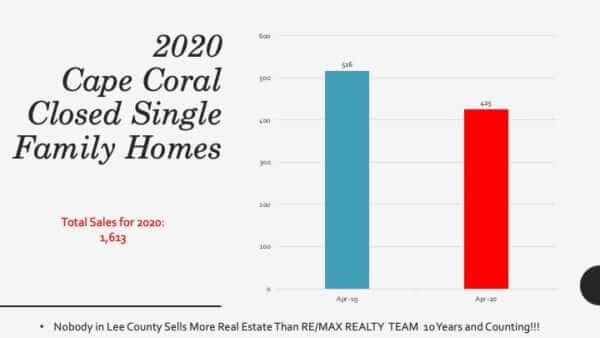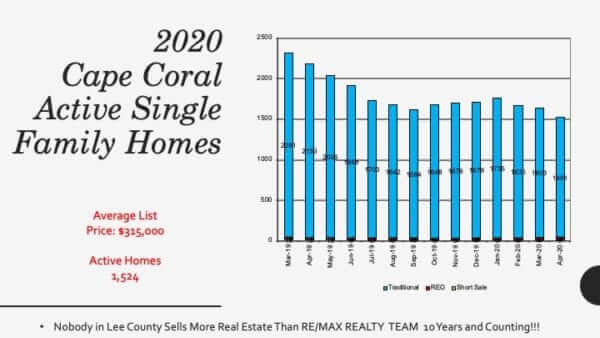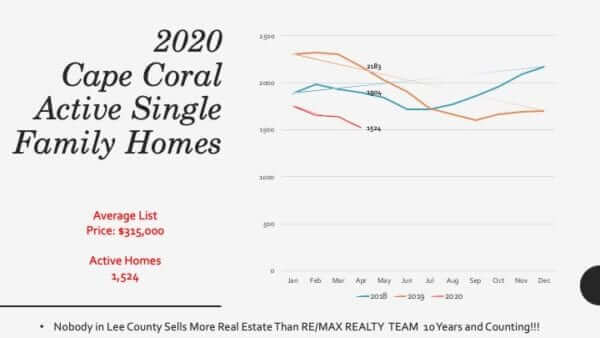 Backyard News:
"Cape Coral"
Listing inventory continues to decline with a little over 1,500 active single family homes on the market. A 20% difference year to year. Demand for single family homes is evident with more properties coming off the market than those entering.
While many market across the area and nationally experienced substantial drops in sales activity, Cape Coral saw a difference of 91 homes compared to April of 2019.
Year to date sale comparisons for 2020 and 2019 show 2020 with an increase in sale activity of over 15%.
Home values and prices are on holding steady and even saw a slight rise from one year ago and a month ago, respectively. The average single family home sold in April for $306k with a 98% list to sale ratio. Inventory levels fell to 3.5 months.
"Fort Myers News"
Fort Myers sales saw a substantial drop in sales last month of over 30%. Total sales equaled 277 in April and fell 18% from March.
Fort Myers is known for its tourism, and out of state visitors, restrictions signaled a pull back in most tourist related activities including home sales.
Prices in Fort Myers fell to $345k, a drop of 1% from 2019 and fell by 9% from March ($379k).
Although inventory levels fell by 10% in one month, the drop in number of sales added to the months of inventory increase to 4.3.
"Industry News"
Financing a home while furloughed is still possible, one will require a letter from the employer with the expected start date for work. This date must be before the first mortgage payment is due.
Furloughed server/tip/commission based employees will now need to have 30 days of pay stubs once they are back at work to prove they are making the same income. A letter from the employer is no longer acceptable.
Mortgage forbearance will not be reported as late payments to credit bureaus, according to Equifax, Experian and Transunion.
———————————————————-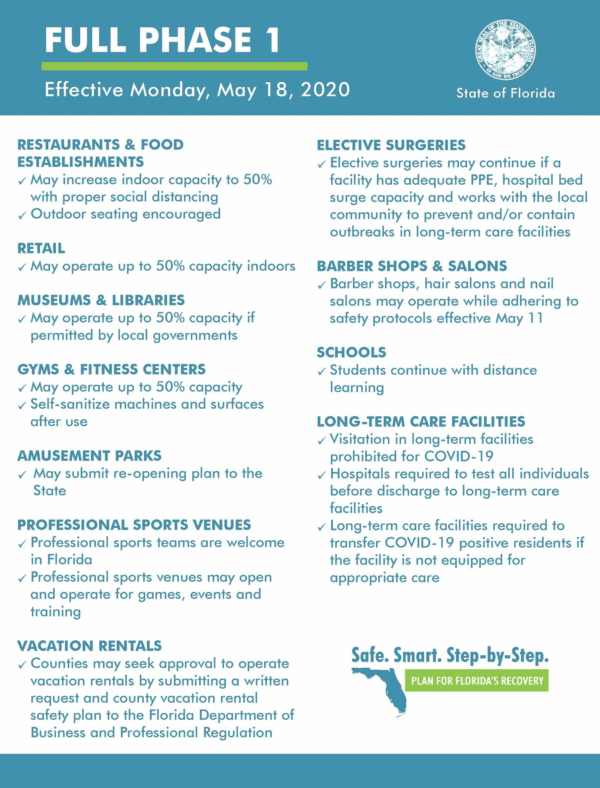 ———————————————————-
For more… click here for Cape Deb's Blog…..
Cape Coral Weekly Market Watch
Have questions?  Need Cape Coral Real Estate assistance?  Call Deb Cullen at (239) 233-2322 or click here…..