Cape Coral Florida Real Estate News
September 2019
State and National News:
Taxes, Financing, Insurance, Scams, and more:
Mortgage rates may hit record low by year's end   Read more…
New FHA Condo loan policy benefits Developers too   Read more…
You need a Will to ensure your wishes   Read more…
Cape Coral and SW Florida News:
Real Estate Tips:
30 helpful organizing tips   Read more…
These outdoor Fall decorating ideas will leave you with serious porch envy   Read more…
How to clean window screens like a pro   Read more…
Nature and Parks:
10 Best Parks and Nature attractions in Cape Coral   Read more…
———————————————————-
~  September's FEATURED Properties ~
3011 Ceitus Parkway, Cape Coral  FL —  $459,000
RARE OVERSIZED OASIS!!! Have you been searching high and low for an exclusive piece of Paradise? This is it! Stunning INTERSECTING & BASIN VIEWS from approx 255 ft of waterfront. Lush landscaping! Recently resurfaced TENNIS COURT with fiberglass mat, new net & backboard. Solar and heated POOL with waterfall. Great room OPEN FLOOR PLAN with sliders that pocket behind the wall. Two Master suites; one with large sliders & entry to pool, waterview, walk-in closet, & en suite bath. The other with en suite bath and office with separate entry. Guest bedroom has POOL BATH nearby. Owners have made substantial improvements in the past few years: NEW high efficiency a/c system, NEW hot water heater, entire house re-piped, NEW gorgeous black aluminum FENCE, upgraded lights and fixtures, Suntamer window filters for energy saving, NEW roof on WORKSHOP along with updated electrical & insulation, GRANITE & STAINLESS appliances, 8" of attic insulation, HUGE BONUS ROOM added, and more… City water/sewer on the way. Water ASSESSMENT PAID. Only about 28 miles from the Ft Myers Int'l Airport and 21 miles to Punta Gorda Airport. Walking distance to shopping, restaurants & more…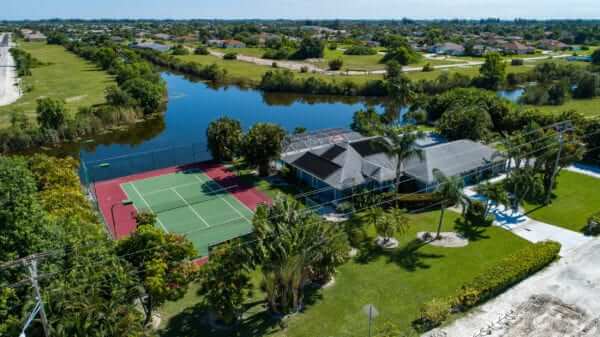 1613 NW 42ND PL, Cape Coral  FL —  $129,000
SAILBOAT ACCESS! Waterfront GULF ACCESS LOT in Unit 82. NO BRIDGE to go under. STUNNING STUNNING STUNNING VIEWS looking approx. 1,100 feet straight down the WIDE Cleome Canal which has a width of about 200'. Highly sought after area west of Old Burnt Store Rd. Located in the City of Cape Coral's New Vision planning area with LOTS OF NEW CONSTRUCTION nearby. The desirable eastern exposure allows beautiful sunrises… Imagine building your dream home….walking out your back door….getting in your boat and heading out to anywhere in the world….now that is ACCESS!!! Boating access to the Gulf of Mexico, beaches, and surrounding islands such as Cayo Costa, Cabbage Key, Sanibel, Boca Grand, etc. This area offers some of the best fishing to be found anywhere in the world. You'll also love that this lot is less than 2 miles from an 18-hole Championship Golf Course. Easy access to the Fort Myers International airport only about 30 miles away and Punta Gorda airport about 20 miles. Close to shopping, restaurants, etc…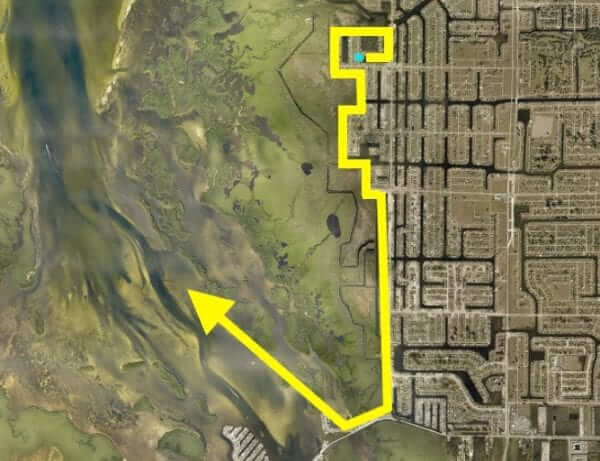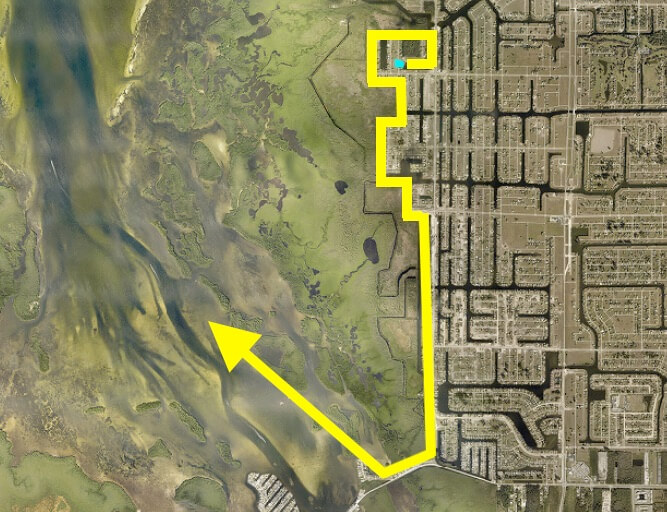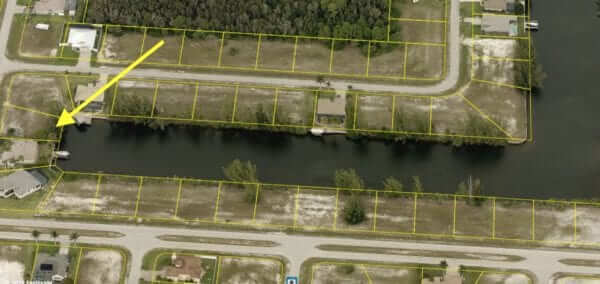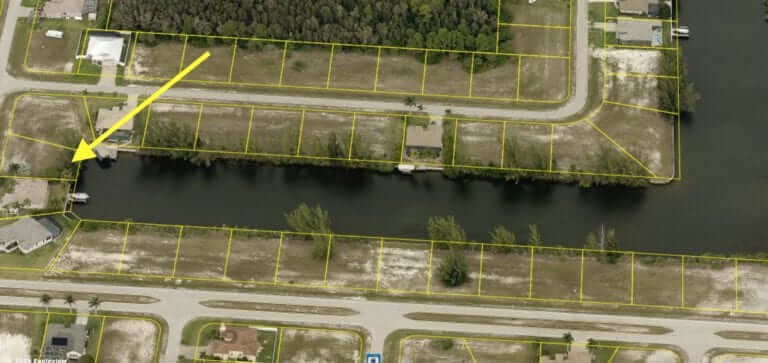 ———————————————————-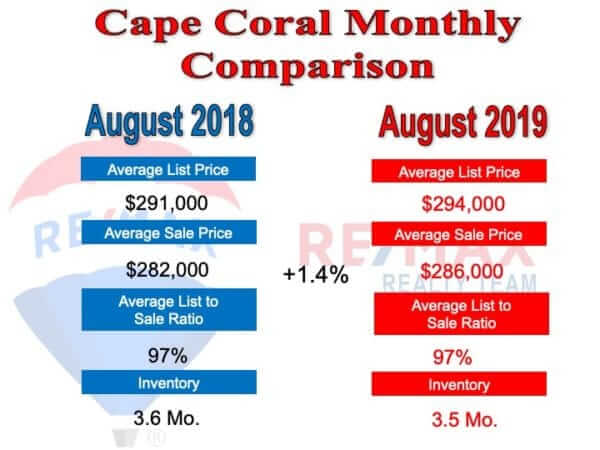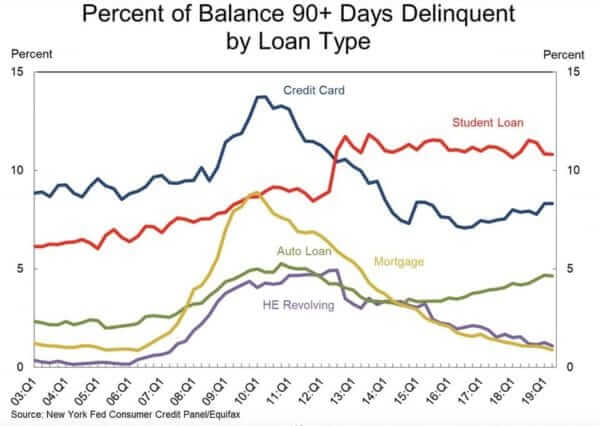 ———————————————————-
Backyard News –
"Cape Coral"
August inventory levels fell again to the lowest levels since November 2017. Early absorption signs indicate that inventory is expected to drop again in September, disrupting cycle patterns of years past.
Sales in Cape Coral for the fourth consecutive month have outpaced those of last year, with the continued drop of inventory it appears that this upward momentum isn't going to end any time soon. Cape Coral is on pace; given a sluggish first quarter to outdo 2018 total closings.
Average prices remain stable, while inventory has fallen and new construction has been dismal, prices may be accelerated based on supply and demand.
Although new construction permits for single family homes have been below projected amounts, the three sectors with significant positive gain have been in the multi-family, duplex and commercial sectors.
"Fort Myers News"
Inventory levels fell by 13% in one month, the most substantial drop this year and are highly likely to drop again next month based on excess of properties coming off the market compared to those on the market.
Sales in Fort Myers have struggled compared to those of last year, two months of upward trajectory and the expected rise based on active and pending trends may close the gap between the two years. Making 2019 a stronger year.
Inventory levels favor sellers at 3.9 months. Add the anticipated drop in active homes next month and prices will undoubtedly rise again in September.
Year to date, new construction permits have passed those of 2018, although permits fell by 12% last month, 5 out of the last 8 months have seen an upward trend.
"Industry News"
Effective in October: TheFederal Housing Finance Agency (FHFA) published a final rule in the Federal Register to validate and approve third-party credit score models. Those models can then be used by Fannie Mae and Freddie Mac (the GSEs) in making lending decisions.
A borrower's credit score unlocks mortgage financing through the GSEs, a critical gateway for millions of homebuyers, the credit score currently used by Fannie Mae and Freddie Mac is nearly two decades old, ignoring innovations in modeling and overlooking a wealth of non-traditional information about potential homebuyers.
The regulation requires a four-phase process for validation and approval of credit score model(s):
       Solicitation of applications from credit score model developers
       Submission and initial review of submitted applications
       Credit score assessment
       Enterprise business assessment                                                                                                                                On Oct. 15, the state's condo market could really open up to first-time buyers after FHA issued new mortgage rules that qualify more condo complexes and units for FHA loans.
The new guidance extends certifications from two years to three, allows for single-unit mortgage approvals, provides more flexibility with owner/occupancy ratios, and increases the allowable number of FHA loans in a single project.. HUD believes the changes will extend critical benefits to aspiring homeowners and confirm the agency is properly serving the public.
NAR advocated for changes to FHA condo policies that include allowing owner-occupancy level determination on a case-by-case basis, granting up to 45% commercial space without documentation and including a five-year approval period for project certification.
For more… click here for Cape Deb's Blog…..
Cape Coral Weekly Market Watch
Have questions?  Need Cape Coral Real Estate assistance?  Call Deb Cullen at (239) 233-2322 or click here…..