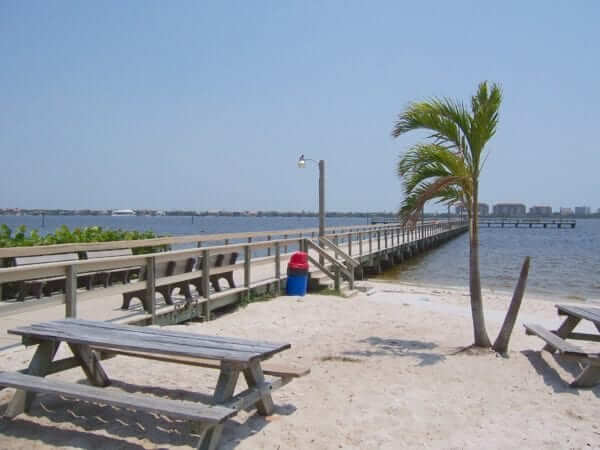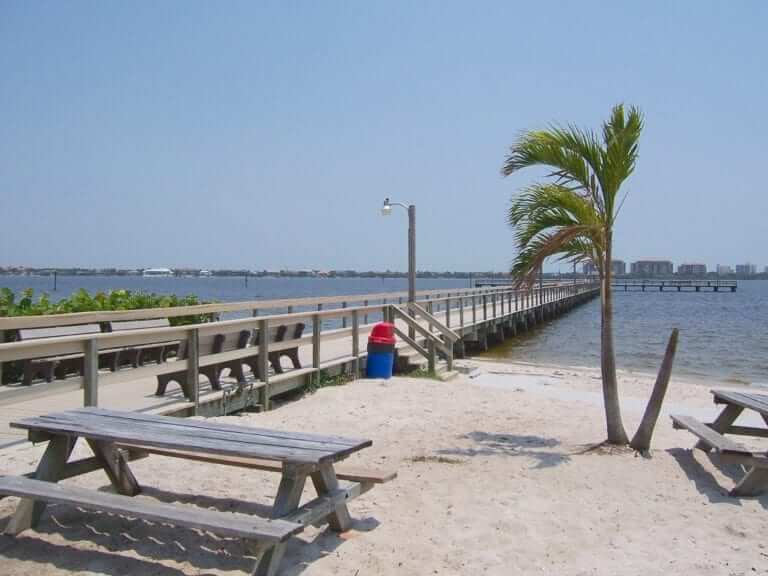 Cape Coral Florida Real Estate news



January 29, 2017
State and National News:
Taxes, Financing, Insurance and more:
Cape Coral and SW Florida News:
Real Estate Tips:
10 Interior Design Trends that are so completely over for 2017   Read more…
Granite countertops take second place to quartz   Read more…
Nature:
Cape Coral looking to build more parks, outdoor amenities   Read more…
Map of Florida Sinkholes by County   Read more…
6 fish to catch in Cape Coral canals   Read more…
Cape Coral's Parks and Recreation Winter Program Guide   Read more…
———————————————————-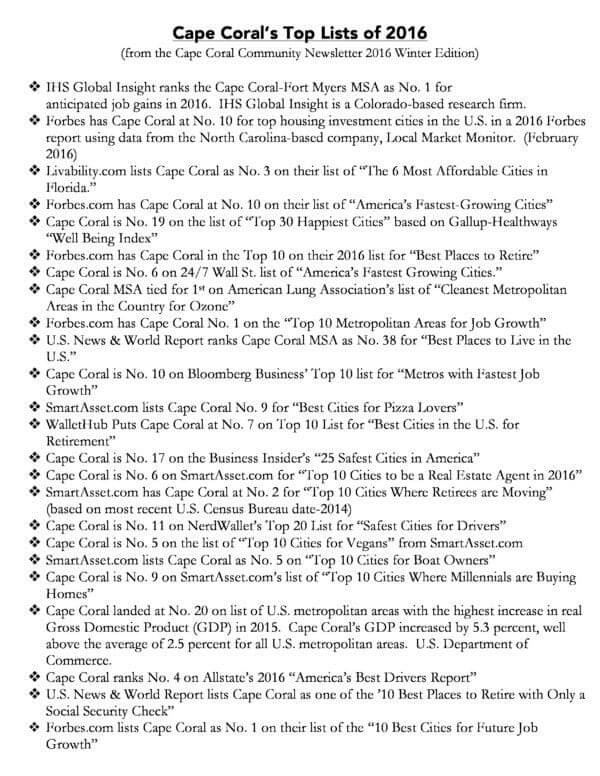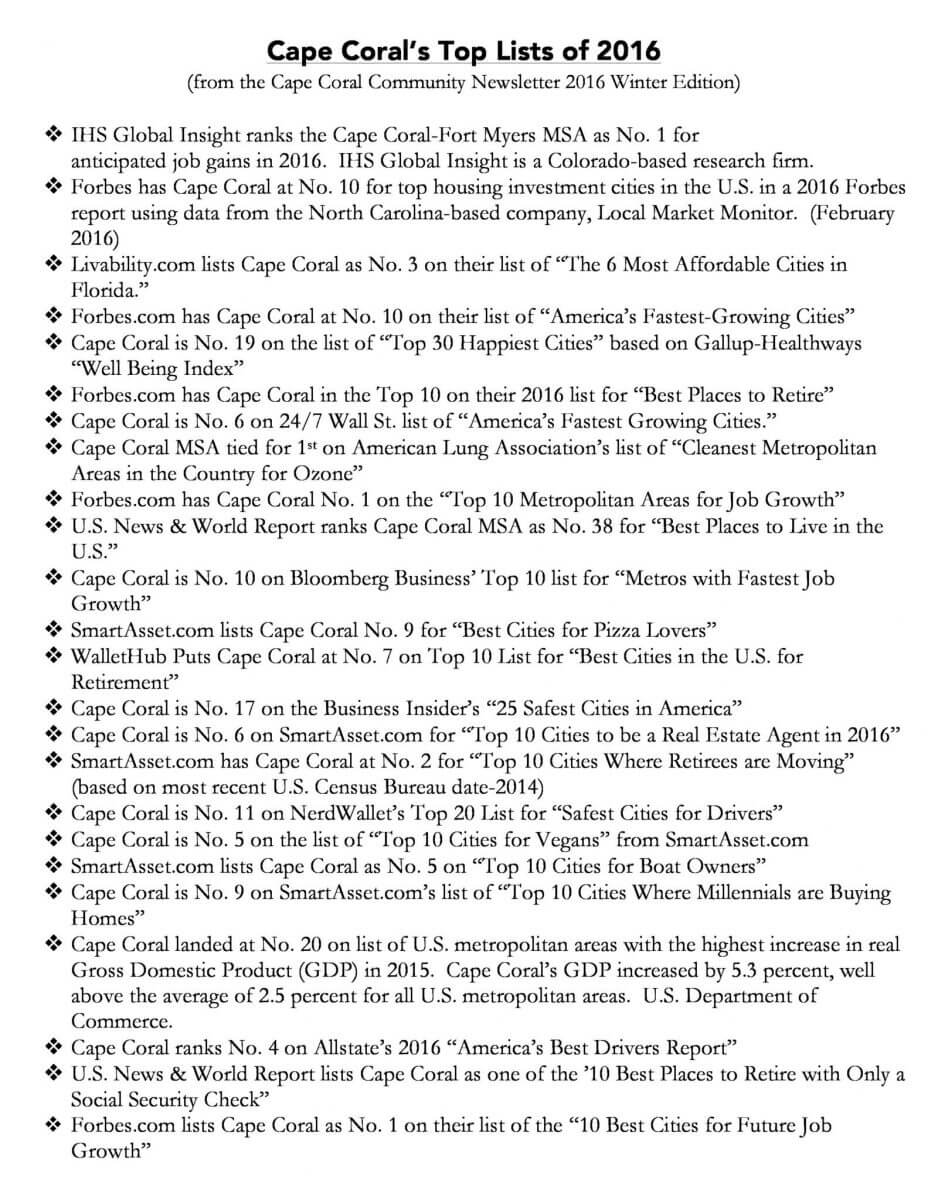 ———————————————————-
THIS MONTH'S FEATURES:
1399 Weeping Willow Ct … Waterfront Condo $154,900
Come live the 'Florida Lifestyle' Dream….. This WATERFRONT Townhouse has it all! From the PAVER DRIVEWAY to the TILED ROOF…. no detail has been left out. Conveniently located a few steps from the Pool and designed to give the utmost privacy while relaxing in your screened lanai/porch area which overlooks the lake. OPEN FLOOR PLAN with High ceilings everywhere. Lots of TILE! More privacy upstairs with each bedroom having it's own BATH with double sinks. Large DEN or MEDIA AREA offer more high ceilings and separate the bedrooms. ASSESSMENT IN AND PAID!!! This community offers sidewalks for taking that evening stroll. Basketball, exercise room, volleyball and more to keep in shape while having fun. Community Secured by a GATE GUARD and Beautiful FOUNTAINS and PALM TREE scattered throughout. Stunning Clubhouse offers yet another large pool with spa and play area. Convenient location close to shopping, restaurants and more. Easy access with SW International Airport less than 30 miles away….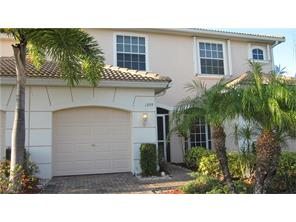 ———————————————————-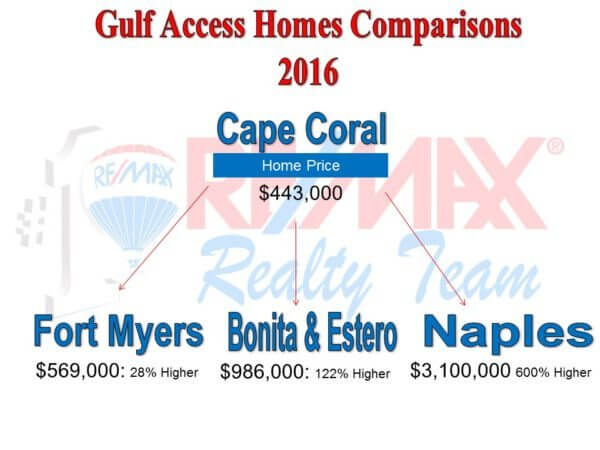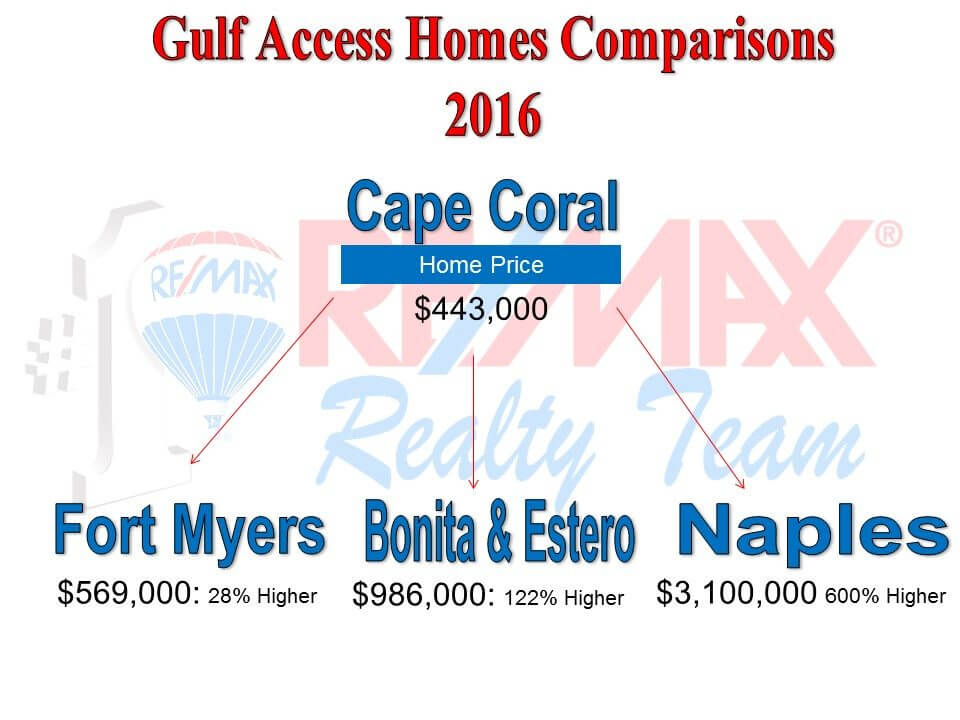 "Backyard News"
– 2016 was a very robust year in our market, Cape Coral single family home sales were over 4,400 a difference of less than 3% from 2015.
– Inventory levels increased throughout the year by approximately 3-5%, bringing the year-end total to 1,702.
– The most noticeable increase was in home values/appreciation, 2016 was the second consecutive year of double digit increases.  A year-end total increase of 10%.  The average single family home in Cape Coral for the year was $258k.
– The Ft. Myers market experienced the most fluctuations in 2016 with traditional and distressed sales, however December rebounded nicely from the previous month with an increase of 12% in total sales.
– Inventory increases in Fort Myers caused a decline in sales for 2016 by approximately 10% from year-end sales in 2015.
– Year-end appreciation/values dropped in Fort Myers, finishing 2016 with a -1.5%.  The average single family home is $310k.
– Bonita Estero closing out the year on a positive!  A jump of 26% in total reported sales in December.
– Total closings in Bonita Estero for the year were over 1,200.
– Similar to Ft. Myers, Bonita Estero values dropped by 1% from the previous year.
"Industry News"
Proposed recent changes by major credit rating agencies (Equifax and Transunion) are showing that lenders are considering whether paying off credit card debt each month or carrying a balance is more beneficial when purchasing a home.
– In the past, lenders would advise customers to pay down credit cards monthly to $0, use it sparingly during the month and then pay it off again monthly.  Although that is still sound advice and doing so will still increase a credit score, there might be more benefit now to utilizing a credit card slightly more and then paying more than the minimum on the card.
– Credit bureaus are going to increase credit scores when potential borrowers maintain a balance on their credit cards of 8-10% of the credit limit compared to when they rewarded timely payments and activity.
– Annual mortgage insurance premiums for (FHA)-backed mortgages are lowering toward their pre-bust level, FHA announced another reduction, this time to 0.60 percent for most borrowers. The one-quarter point reduction is expected to save FHA-insured borrowers with a closing date on or after Jan. 27, 2017 an average $500 this year.
"2017 Predictions"
Single family home sales for our three markets should be around the 7-9K mark in 2017.
– Thriving new construction market as home builders shift their focus and concentrate on more affordable and/or entry level homes.
– Although home prices will remain strong, it is likely that we will see single digit appreciation this year.
– Interest rates will rise but should top off below 6% mark.
– Distressed properties will continue to plummet and will make approximately less than 10% of total sales.
– Rental market (rent prices) will level off, similar to single family resale values.