State and National News:
Taxes, Financing, Insurance and more:
Cape Coral and SW Florida News:
Real Estate Tips:
Nature:
———————————————————-
REMAX Realty Team #1 in Lee County again!  Thank you to all our wonderful Customers!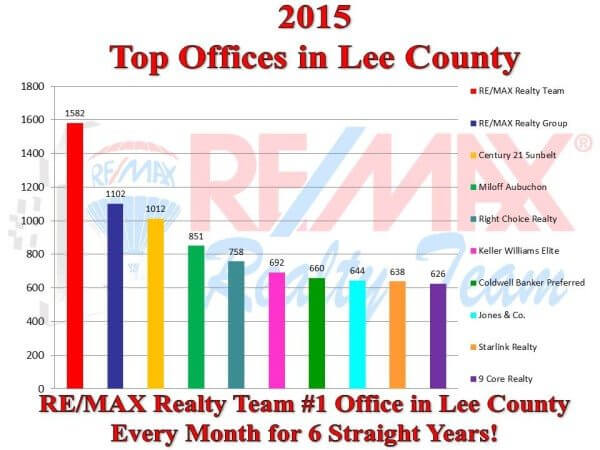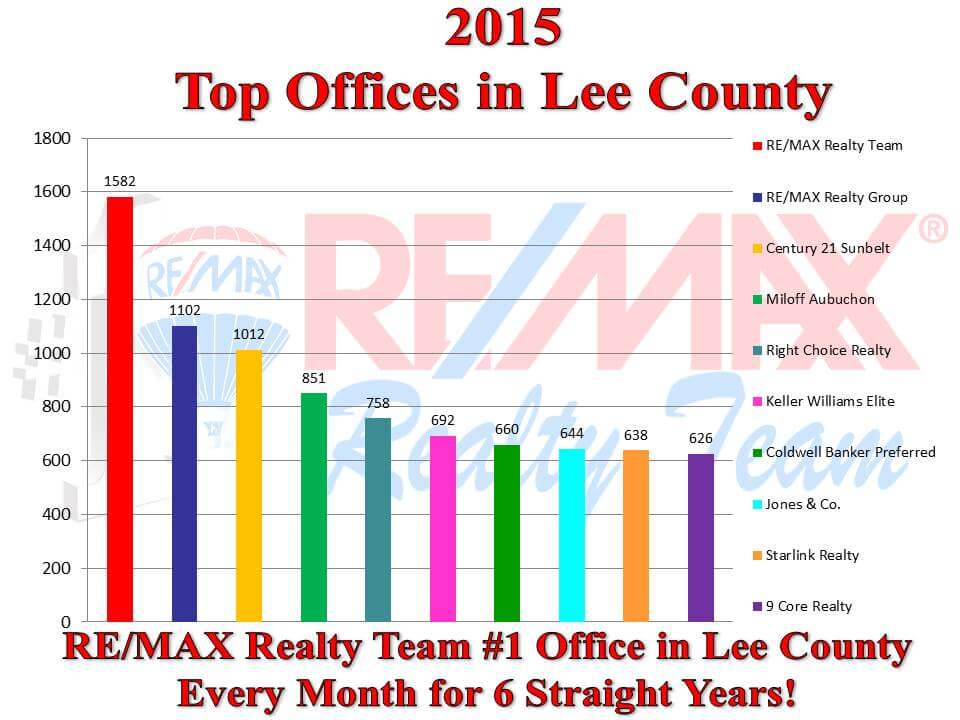 ———————————————————-
Monthly Feature:  NEW ON THE MARKET! 

9200 Belleza Way #102, Fort Myers
This is the way to live the SW Florida Lifestyle!….. The PEBBLE BEACH Community located in Laguna Lakes offers easy Tropical Living with quick proximity to the pristine BEACHES of Fort Myers and Sanibel Island…. NO STAIRS to climb here….This is a RARE FIRST FLOOR unit with THREE GLASS DOOR SLIDERS and an 'open design' making it light and bright. The 'split bedroom floor plan' offers the Master Bedroom on one side and the two guest rooms on the other for the utmost privacy and comfort. Your private driveway is located on a quiet cul-de-sac. Enjoy a cup of coffee in your breakfast room or grab a book and relax in the spacious screened lanai area. Laundry room and GARAGE offer lots of storage space. This GATED and lushly landscaped Community boast a resort style HEATED pool and spa to relax the day away. CLUBHOUSE features a well-equipped FITNESS ROOM, fully equipped kitchen, dining room, and more. Get ready to have some fun and play TENNIS and volleyball in this gorgeous tropical setting with palm trees swaying in the breeze. GREAT LOCATION with quick access to hospital, library, shopping, many public golf courses, assortment of dining options, airport and more…Call today!.
  ———————————————————-
SOMETHING NEW!!!    
———————————————————-
HELP!!! 
Inventory is low and Listings are selling FAST!  If you know someone that wants to sell their home/lot, please let me know.
3802 NW 4th St – Under Contract in 5 days
2519 Woodbourne Pl — Under Contract in 5 days
1721 SW 23rd St — Under Contract in 29 days
2709 NW 1st Pl — Under Contract in 6 days
905 NW 15th Pl — Under Contract in 23 days
924 NW 12th Pl – Under Contract in 20 days
   ———————————————————-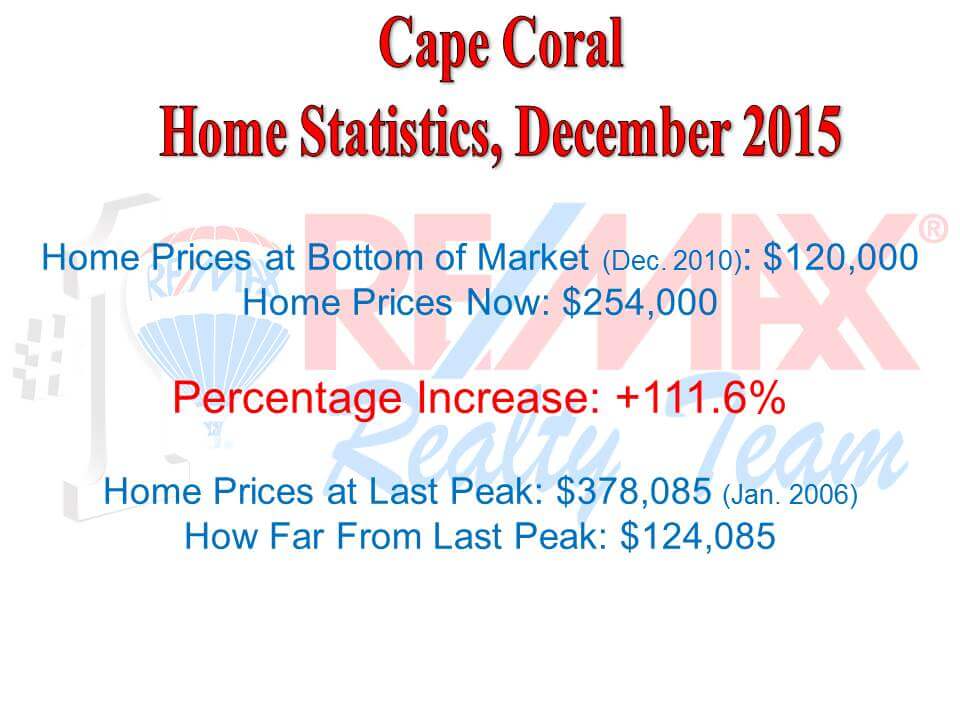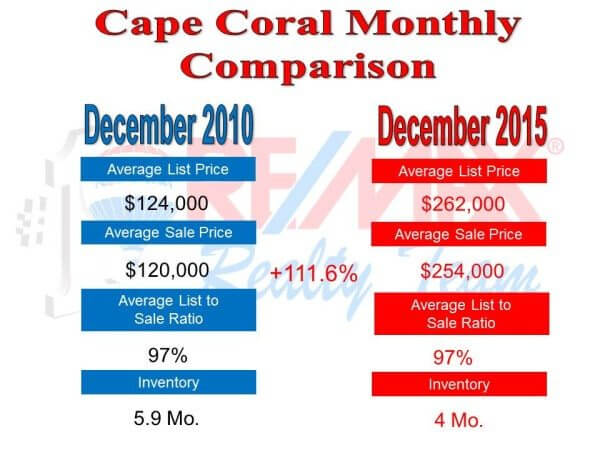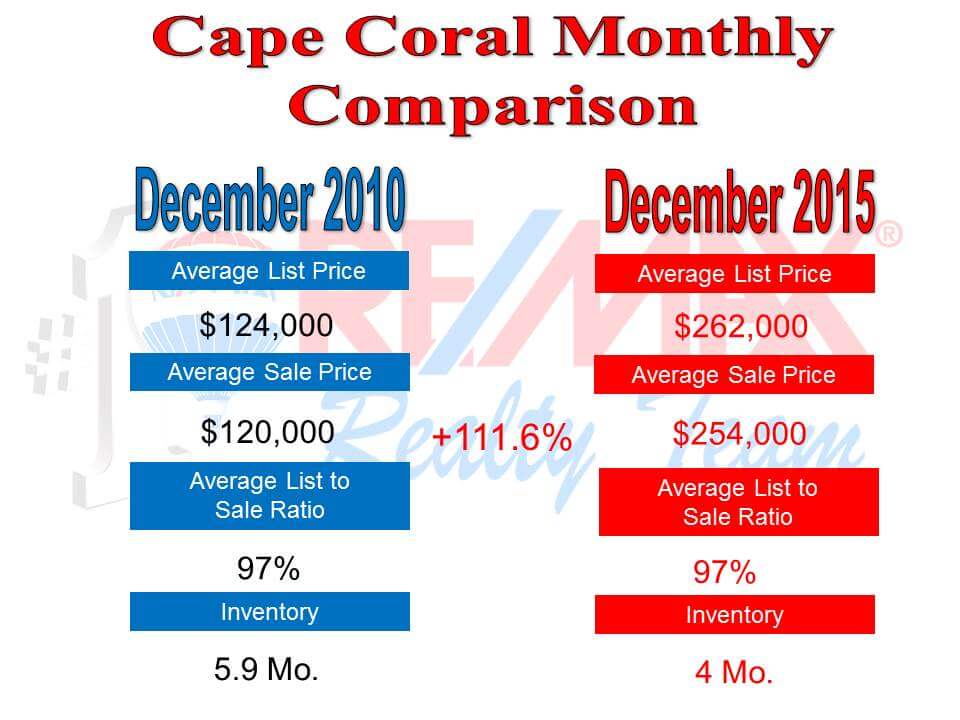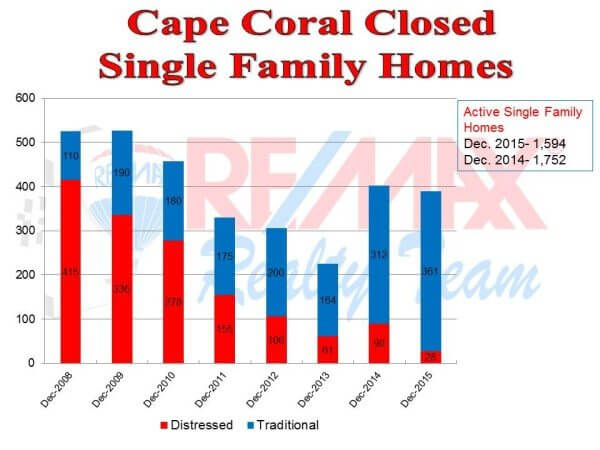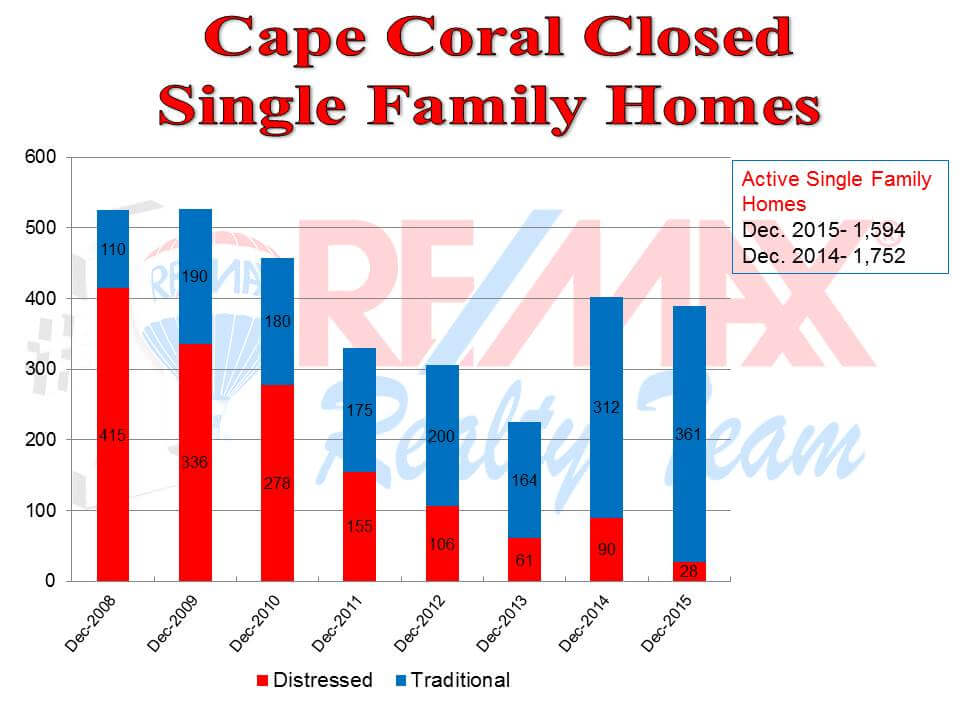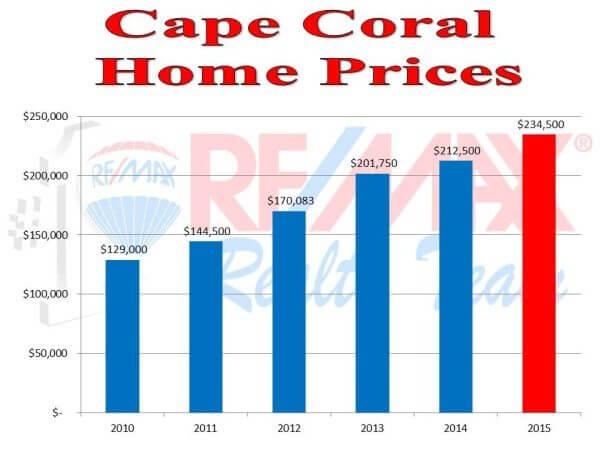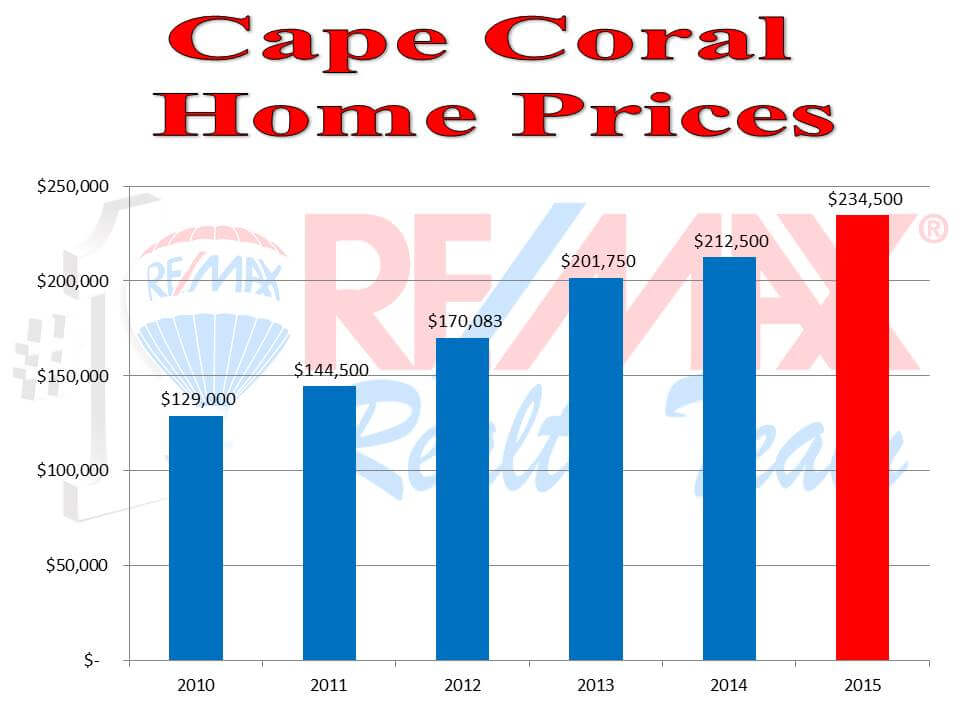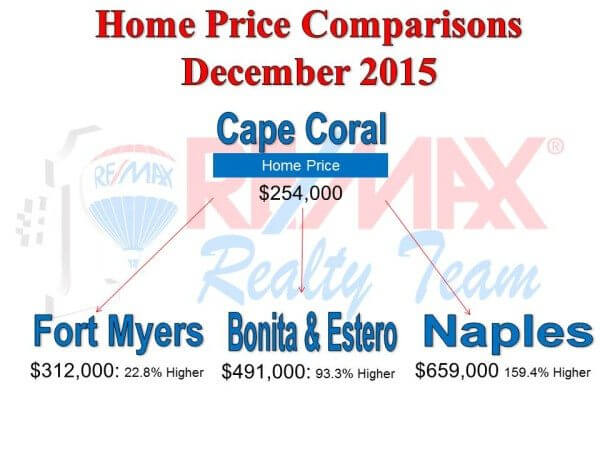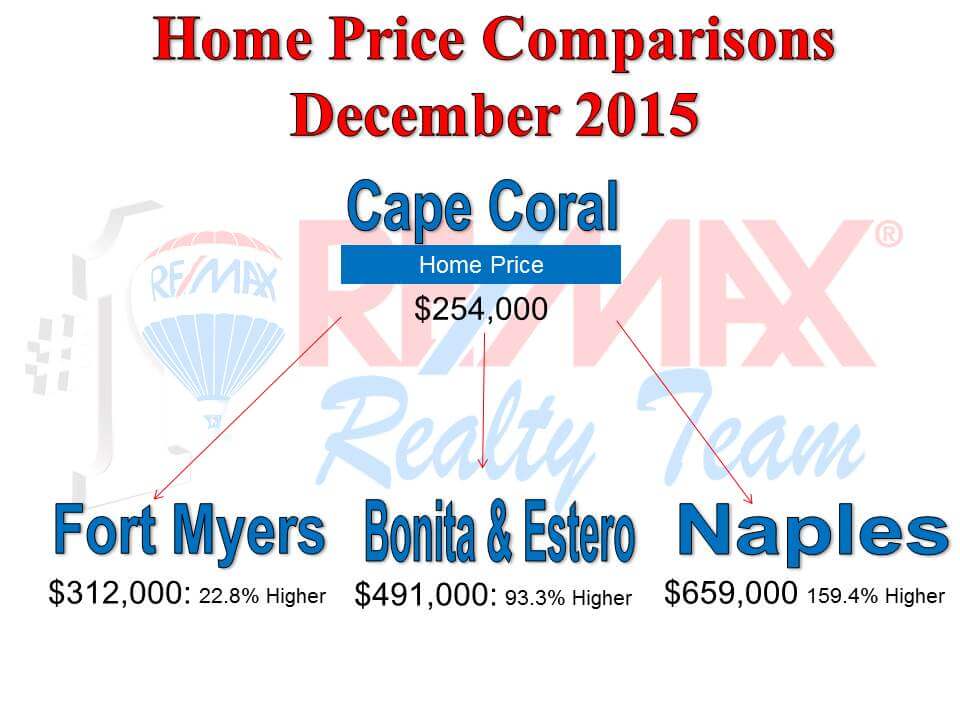 "Backyard News"
> Inventory rose in December by a dismal 2%, none of which is uncommon for the time of year, pendings remain a strong force with a total 303 pending sales compared to a total 374 new listings taken in December.
> Another year of double digit appreciation! 2015, had robust ending with prices topping off at 10.3% overall.
> Cape Coral made a comeback in total sales (389) closing the year out as the second highest recorded December since our recovery!
> Total lot sales jumped by nearly 50%, for a total 262. This figure coupled with the number of new construction permits (88) issued, this market indicator forecasts an equal to or better 2016!
"Industry News"
> The federal government is requiring that all lenders escrow for flood insurance these changes are effective immediately, regardless if the homeowner is waiving the traditional escrows for taxes/HO insurance.
Applies to properties that are in a flood zone and getting financing and borrowers that are putting 20% or more down.
Taxes and HO Insurance can be waived by these borrowers however, Flood Insurance can not!
Condos where there is a master insurance policy are exempt.
> Congress voted to extend the tax deduction for mortgage insurance through 2016.
Borrowers with adjusted gross incomes up to $100k can deduct 100% of their borrower-paid MI premiums.
Married borrowers filing separately is $50k of adjusted gross income per person.
> Reminder that homestead exemptions must be filed before March 1st for those that bought in 2015 or changed their homestead during 2015. (See Attached form)
> Foreign Investment in Real Property Tax (FIRPTA) basic withholding increases from 10% to 15% on February 16, 2016.
The withholding is zero when the sale price is less than $300,000, the buyers use the property as a residence AND the buyer signs a FIRPTA Exemption Affidavit. When the sales price is
between $300,000 and $1.0 million, the buyer's intent is to use the property as a residence AND the buyer signs an affidavit. The withholding is 10%.
The FIRPTA Withholding can be reduced or eliminated by filing Form 8288-B (Withholding Certificate Application) before closing.
Cape Coral Real Estate News